Spearth Day was born of a series of compromises, but has become one of the key dates in the waning weeks of our school year. Many years ago, the students asked for a special day to celebrate the mailman who played such an important role in their lives (today's students, for whom email is old-fashioned and texting is routine, would probably find this odd). We called it "M and M Day" for "Mail Man Day," and besides presenting him with a card and gifts when he finally showed, we played an all-school game of Capture the Flag and found other ways to celebrate. Over time, M and M Day evolved and became more organized - for one thing, the tradition of the talent show was begun. Meanwhile, earlier in the spring, Earth Day remained a day off for service - cleaning up local parks and rivers, clearing trails, and so on. The two days were eventually combined into one, and the name "Spearth Day" comes from "Spring-Earth Day." We spend the morning doing various service projects on- and off-campus, have the Talent Show after lunch, follow that with games and booths organized by classes and clubs, dedicate the yearbook and pass out copies, and end with a barbecue. This year, for a special treat, there will be a dance performance by the Senior IB dancers.
Excitement always run high right before Spearth Day, especially when Wednesday immediately precedes it as that is our half-day of classes. The 7th graders spent Morning Meeting somewhat nervously tying up the few remaining loose ends in the preparation for their booth while the 8th graders set up a coverage schedule and worked hard to ensure they would have everything they needed. Early morning notes on the white board suggested the Community Service Club had done much the same the night before.
Sports are winding down (another reason for excitement as this is a major marker the year is actually starting to come to a close), and so Sophie and Clara, two of the 7th graders, were available and eager to accompany me to the Dakin Pioneer Valley Humane Society. They laughed and sang and talked all the way there, assuring me they had to be the loudest group I'd ever taken (they weren't far wrong, actually!). There wasn't much to do on site, but they were cheerful and positive even when just folding laundry, and took the time to make friends with some of the cats. The ride back was just about as high energy as the ride out.
When we returned at 5:30, the school was sheltering in the basement as a tornado warning had been issued. So when the Wednesday night group of the Middle School Rock Bands showed up 20-25 minutes late for rehearsal (dinner had opened half an hour late and hey, they had to eat!), energy was even higher than usual - if possible! - for a Spearth Day Eve.
For the Spearth Day Talent Show, the group is performing "Microphone" by Martha, a second-year 8th grader. The song has rather whimsical lyrics (sample "Microphone, / You have a big head. / You have a cord. / And it is long.") and a melody to match. At our first rehearsal of the song, I suggested a series of chords to which everyone agreed, and Aliana (who had played drums before during this year) taught Subin (who hadn't) an appropriately whimsical drum part (Meredith on bass, Molly sharing vocals with Martha, and Ellie on marimba round out the group; Aliana is covering the piano part). The song is a little bit short, so at our previous rehearsal, we had rearranged it so the final chorus was repeated three times - once with instruments, once a cappella, and once more with instruments.
We ran the song twice - the second time because I had forgotten to time it, just to be on the safe side as we are limited to three minutes (lots of acts in this Talent Show!) before sailing into "Somewhere Only We Know" by Keane, which we are doing next Thursday for the annual Middle School Music Performance. It is a beautiful piece with subtly shifting block chords in the piano anchored by a relatively straightforward backbeat. Subin was drumming again, Martha had shifted to the marimba, and though I normally play bass on this piece, I had to cover Molly's piano part since her team was late back from a game. Somehow, Ellie, Aliana, and Martha had contrived to cover Meredith's vocal since her Team Night had begun way late due to the tornado warning and so was going way late. Still, even with me faking the chord shifts that Molly alone knew by heart, and even with one less voice on the harmonies (which the girls themselves wrote), the song sounded gorgeous and as it sunk in that I had only two more nights with this group before they were done for the year, tears sprang to my eyes which I tried (successfully) to cover up because the girls were having so much fun.
In the 1991 remake of "Father of the Bride," Steve Martin in the title role tells his daughter on the night before her wedding, "Well, that's the thing about life, is the surprises, the little things that sneak up on you and grab hold of you." (IMDb) I know tonight is only the first of many such moments we'll experience over the next two and a half weeks. It's a way to mark how much these kids come to mean to us, and to each other. Of course, even those who are graduating and moving on will live on in my memory and in my heart. And they will have good company there, kids both past and future.
And meanwhile, I will savor every moment of the rest of the year. I know how lucky I am. And I am determined not to take it for granted. As, I am quite sure, are they.
Written by Bill Ivey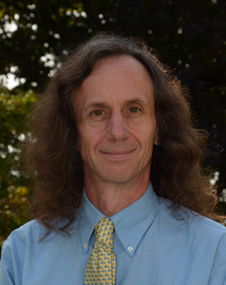 A dedicated member of the faculty, Bill Ivey is the Middle School Dean at Stoneleigh-Burnham School. He teaches Humanities 7 and the Middle and Upper School Rock Bands. Bill is the advisor for MOCA, the middle school student government, and he coordinates and participates in the middle school service program. Among his many hats, Bill also coordinates social media for Stoneleigh-Burnham School.