132 - Kristin. 134 - Kim and Francie. 136 - Donna and Jenny. 138 - Amanda and Hillary. And so on.
Those were some of the kids on my first corridor, way back in 1985. Of course, those kids would be in their mid-40s now, much closer to my age than to the age of the kids currently living there. But the memories are still fresh. For example, the time there came an unmistakable meow from one of those rooms as I was doing check-in at the beginning of study hall. A little investigation uncovered - you have perhaps guessed - a cat, its container covered by a tapestry so I wouldn't see. Suddenly, several kids from the corridor were all in the room, begging me to let them keep it. It had been lonely, lost, wandering around. It needed a home. It needed love. I asked where they had found this poor, lost, homeless cat. The parking lot in Friendly's, the old one on Federal Street. The one, I pointed out, smack in the middle of a residential neighbourhood. I convinced the kids, not without a fair amount of effort, that the cat might actually have a home and that those people might be worried. I drove it down to Friendly's and, waiting for an opportune moment so no one would see me and think I was abandoning it, released it, hopefully indeed back to its home.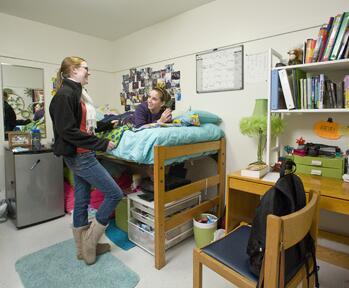 I moved off that corridor in 1988 to a bigger apartment (actually, not very much smaller than my current house), by request taking what by then was the 9th grade corridor with me to "the Extension" over the library. I stayed there for most of the remainder of my 12 years of houseparenting. Four years later, I would be in France attending a friend's wedding on the first weekend of the year when I first learned of the unique character of that particular corridor. "Bill, you wouldn't believe it. They all shaved their heads on the first night." my friend and co-houseparent told me over the phone. A slight exaggeration - they had merely shaved the lower half of the back of their heads, and not quite all of them. But the moment was a foreshadowing. This would be the year that Lilah would absolutely refuse to sleep in room 65 for a solid week, assuring me one of her relatives had confirmed malevolent paranormal activity in the room. The year where I learned I would have say "good night" last of all to Kerry, who found a way almost every single night of the year to engage me in challenging something about the school - except for the night where she taught me the "A Pizza Hut. A Pizza Hut. Kentucky Fried Chicken and a Pizza Hut..." song. The ritual turned out to be her way of calming down at the end of the day so she could fall asleep. And of course - she could laugh about it as a Senior, by then an RA on her old corridor - Mary Ellen, several nights a week, knocking on my door about half an hour after lights-out. "Bill. I can't sleep."
Yesterday in housemeeting, I made the following announcement during the "Weekend Activities" portion of the morning: "I'm going to be on duty on middle school corridor. Since this is the first time I've been on weekend duty... this century, please feel free to offer suggestions for what you'd like to do." I had done some coverage on middle school corridor during the last week of school, hanging out during Vespers and Farewell to Seniors before we found ways to help the kids create strong enough connections to the older kids that they began - successfully - demanding to attend these formerly Upper School events. But this would indeed be my first weekend on duty as a resident since 1999, when my family and I temporarily abandoned our house for a year to live in Ferdon.
Similarly, last night was my first on-duty night during a normal school night in quite some time. It proved to be easy, fun, and "relatively smooth" as I wrote repeatedly in my Duty Notes for the night. Around 7:30 p.m. up in Jesser, where we are holding study hall during the two-week-long period of Quiet Hours due to IB testing, several people said, "Oh, we need to talk to you after Study Hall." Feeling the old familiar sense of uncertain anticipation, I nodded yes, and everyone quieted down quickly - occasional bursts of conversation and laughter from the Humanities classroom notwithstanding ("Every time!" one girl lamented. "Every time, you catch me!"). A little after 9:00 p.m., back on the corridor (Middle School Study Hall only lasts 90 minutes, reflecting the lesser amount of homework they get and their developmental needs), a group of approximately 11 students (they waited patiently while I punched all their names into my phone to make a list) surrounded me as I sat at the duty table. "Okay," I said turning around to face as many of them as possible, "What do you want?"
It turned out that what they wanted was for me to drive them up to Cardigan Mountain School on Saturday. For the second straight year, Cardigan had invited us on a harbour cruise in Boston to celebrate the end of their year, and the girls wanted to be able to see the boys who had thus entered their lives once more before Cardigan graduated, Saturday being "Eaglebrook Day" when the two rival schools would have multiple games in multiple sports. They knew it was one hour and 41 minutes door to door, they knew the game schedule, they knew I would have to find coverage to staff the dorm in my absence, and in general, especially considering how badly they must have wanted it, they presented their proposal calmly and thoughtfully and in great detail. I explained what would have to fall into place for me to be able to do this, promised to write the necessary emails setting the process in motion, and promised to let them know when I knew for sure if it could work out.
At 10:00 p.m., Susan, a Rock Band student of mine and one of the RAs in the Middle School, joined me in walking the length of the corridors telling everyone "good night" and ensuring their lights were out. This was always one of my favourite rituals as a houseparent, and not at all because it signalled the impending end of my active duty for the night, but more because it was a chance to connect, to read the moods of everyone on the corridor, to provide a little touch of home. "Good night. Sleep well. See you in the morning!"
I had determined to hang out an extra half hour, just to be sure things remained calm and nothing bubbled up suddenly. Whatever her reasons, Susan sat next to me by the duty table, talking in Chinese to somebody - her mom? - and, her face split by a wide smile, showing me a picture she'd just been sent of her dog running outside outside all happy it was spring and it was warm. Later, I would ask her if she'd read the excellent article by Nafisatou, a four-year-Senior, in our latest Alumnae Bulletin. She hadn't, but she began talking about Nafisatou's journey toward one of the hardest colleges to get into, "harder than Harvard" she said, eyes wide. And then her attention turned to her own college search and her worries and misgivings. What is there, I thought to myself, about the quietness of a corridor that brings out these moments? Although no one else was visible, we were surrounded, I was acutely aware, by several dozen people, with many more elsewhere in the building. Often, I think back on my houseparenting days, and that comforting sense of being connected to so many people even when most of them may have fallen asleep. I did my best to reassure Susan that everyone finds their place, and let her know most Juniors feel the way she does at around this stage in the college process. I walked her through how she would start to find what college would be a good fit for her. This time next year, I assured her, you'll know where you're going.
10:30 p.m. rolled around. I hit "Send" (well, technically "Envoyer") on my phone to send out my Duty Notes, bid Susan good night, and walked downstairs and through the drizzle out to my car, looking back up at the dark windows where my students slept. Tomorrow, the familiar ritual of a Wednesday. But for now, a moment of peace.
Written by Bill Ivey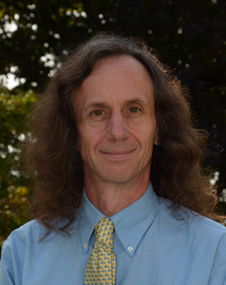 A dedicated member of the faculty, Bill Ivey is the Middle School Dean at Stoneleigh-Burnham School. He teaches Humanities 7 and the Middle and Upper School Rock Bands. Bill is the advisor for MOCA, the middle school student government, and he coordinates and participates in the middle school service program. Among his many hats, Bill also coordinates social media for Stoneleigh-Burnham School.