Every August, my hometown hosts one of the great 10K races in New England, the Bridge of Flowers Classic. Hundreds of runners, from local kids to world-class elite racers, line up on the Iron Bridge while seemingly half the town lines up to watch them or goes to take their stations to volunteer and help out. On several oocasions, Greg Snedeker (our jazz and classical music teacher) and friends set up out on the course to provide musical support. It's always fun and festive, and a wonderful way to spend the morning.
One such morning, I saw Dana Parker, the Youth Minister from my church during my teenage years (and, for fans of In These Girls, Hope Is a Muscle by Madeline Blais, the kind and supportive Dean of Students mentioned in the book) walking down the Iron Bridge to find a spot to cheer on his wife. Thinking I could not pass up this chance to tell him something I'd wanted to say for over 20 years, I ran past dozens of other spectators, skipping and side-stepping around and out of the way of people so I could keep moving and keep him in sight. I finally caught up and said "Dana," loudly enough to be sure he heard but not so loudly to attract attention, and he turned around. "Bill," he said, that familiar slow, warm smile spreading over his face. After we caught up up on our lives for a few minutes, I said, "Well, I just needed to tell you that I've been trying my whole life to do for kids what you did for us. You treated us like people, and it meant the world."
He tilted his head and another familiar expression came over his face as he said, "Well, you were people."
About a week ago, my Humanities 7 students were talking before class started, and they brought up the fact that a number of teachers are moving on this year. One of them, Hank Mixsell, is wrapping up a long and successful career in which he made a positive difference in the lives of countless students; others, such as Kayla Burke, Michele Berdela, and Mandi Repoli, are at the other end of long and successful careers etc. and are moving to be with fiancés and significant others or because they've wrapped up their internships here. The kids have connected to every one, and at an age where so much in their own lives may seem to be changing and unstable, changes in teachers can be scary. They talked back and forth about ideas for what they hoped for in new teachers next year, and in the end asked me with heartbreaking earnestness, "Please, just find us a teacher who will love us." I assured them that the one inviolable principle I hold in hiring new teachers is they they know, understand, and genuinely like middle school kids, and they looked at least somewhat relieved.
I mentioned this moment on the ISED-L listserv, and several people very kindly wrote in to say how wonderful our school sounded and how lucky those kids were.
That was the theme of many conversations during our recent Spring Family Weekend, and the dominant sentiment behind many of the student-led conferences I witnessed Saturday morning. One teacher asked me how my morning had gone, and I said, "Well, I spent the whole morning just sitting and listening to kids talk about how much they had learned this year and what they wanted to keep working on while their parents looked on and smiled. So I'd say it was a pretty good morning." There were the usual tear-inducing moments when the depth of learning, connection, and self-awareness the kids were showing so simply and matter-of-factly left me feeling overwhelmed.
One of the things these kids talk about openly, and with far more insight and nuance than many people would expect, is the notion that they are still growing up. It is at once a comforting reassurance that they are normal, an uncomfortable reminder that they do still have some growing up yet to do, and ultimately a simple fact of their existence. This is just one of the many ways I can relate to them. I don't mean just through remembering my own teenage years, though goodness knows I do and I had my share of moments of immaturity. No, I mean the concept that however mature I may be now, I am less mature than I will be. I'm sure if I live to be 100, I'll look back at something my 95-year-old self did and just shake my head. It's part of the human condition.
And in our joint humanity, my students and I, we all simply go forward and do our best, with the confidence that comes from genuine respect and deep connections. It's almost...
Written by Bill Ivey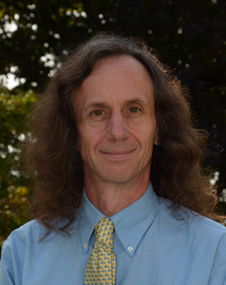 A dedicated member of the faculty, Bill Ivey is the Middle School Dean at Stoneleigh-Burnham School. He teaches Humanities 7 and the Middle and Upper School Rock Bands. Bill is the advisor for MOCA, the middle school student government, and he coordinates and participates in the middle school service program. Among his many hats, Bill also coordinates social media for Stoneleigh-Burnham School.