In the echoing silence, I thought I could hear closet doors that had opened a crack softly but quickly shutting again. We were at a faculty professional development session on supporting lesbian and bisexual students, and an earnest young houseparent had just explained to the facilitator that we didn't have any issues around sexuality among the faculty and staff because no one was gay. Seriously? I thought to myself. How could we even know? Just because no one has dared come out?
We did find a way to end up having a productive session that day, and by the end of the year, the first two students I can remember from my first 12 years at this school had indeed found the courage to come out as lesbian. This was during the years when graduating Seniors offered a present to the Head of School, and following the theme set for that school year, the Class of 1997 each offered Patrick Collins their own "Book of You" as a way to remember their individual voice at the school. In a gesture that showed how far we had come in less than a year, one of those students offered Mr. Collins The Joy of Lesbian Sex.
Seven years later, when Massachusetts became the first state to legalize same-sex marriage, Lisa Ganci, our bookstore manager, and her then-partner were the second couple in line at the Northampton Town Hall waiting to get their marriage license at the stroke of midnight. She shared the overwhelming joy of that moment with the school during Housemeeting, speaking movingly about how lucky she felt to work here in a place where she could feel completely safe and supported.
Seven years after that, one of the Seniors came out to the school in another housemeeting, announcing that he was transgender, explaining what name he was using and what pronouns should be used. We faculty had prepared for that moment, with our Mission and Diversity Statements as a guide, and following that housemeeting met in advisory groups to process the announcement. My own group of seventh and eighth graders took the news completely in stride, perhaps in part because three of their families already knew transgender people who had come out. One of my students asked if we were still a girls school, and I said yes, we were still a girls school - with one boy.
Time and time again, I read that one major contributing factor to the sea change in attitude in this country toward homosexuality has been the increasing numbers of people coming out. Suddenly, from the perspective of heterosexuals anyway, gay people weren't this strange "other"; they were your neighbour, your uncle, your sister. They were people who led perfectly ordinary lives but who happened to be inclined to fall in love with other people of their own gender.
There remains some confusion about bisexuals, and even more confusion about transgender people. If the existence of gay people challenges the notion that men invariably fall in love with women and women invariably fall in love with men, at least the notion of "invariably fall in love with a specific gender" remains in place. Bisexual people and transsexuals further challenge that binary concept of gender, and of course other transgender people just blow it apart. I often read that, as more and more bisexual and transgender people begin to come out, people will increasingly be able to understand the normalcy of these ways of being, and they will be increasingly accepted in society for exactly who they are.
This is why it's worth taking some time each year as we observe the Day of Silence to think about how far we've come, how far we still have to go, and how we get there. The more we break the silence about the full range of genders and sexualities, the easier it will be for people throughout that range to simply be their true authentic selves in public as well as in private.
That's not to say that we don't have a long road ahead of us. Thomas Beatie, a trans man who first gained fame during his pregnancy, recently had an appeal to divorce turned down because his marriage was not recognized by his home state. A gay person was handcuffed and forcibly removed from the hospital bedside of his dying partner. Smith College did not review an application from a trans woman because some of the documents she submitted defined her as male; in that context, note that the crazy quilt of laws in this country mean that some people are considered to be different genders in different states. Furthermore, some marriages that are legal in one state may not be recognized in another, and some marriages that are legal in one state may continue to be recognized in another... until one or both people in the couple take a particular action.
To be clear, I'm not arguing about specific religious attitudes toward LBGT people; each religion of course has the right to define their own values, and I fully respect that. Some religions embrace and support LGBT people, others consider it a sin and love and respect them anyway, and then there's the Westboro Baptist Church. As for me, I fully support anyone who loves and respects all human beings, and I fully resist anyone who refuses to do so.
And that means speaking out into the silence. I regret to this day that I did not react to that earnest young houseparent's remark, understanding that she no doubt meant well, but specifically working to create a context where those closet doors might open back up a little. I am relieved that they did, and proud of our school for the progress we have made over the last 16 years.
It used to be that, in speaking of puberty, we would say "Oh, she'll be getting interested in boys," and most girls would expect that would happen. We're getting to the point when most people realize that outcome is the most likely - but not certain; as I've written before, fully a third of our students reported in a survey given by Life Skills 8 students that they "weren't sure yet" of their sexuality. I sense, too, that students are aware that it is possible that another student will come out as transgender during their time here. In all cases, I sense various levels of confusion around what all possible genders and sexualities mean but also a sincere desire to work through that confusion in order to be able to accept everyone who is a part of our community.
With all that, though, I am well aware that every single member of the community has their own perceptions of the climate of our school, and they may not match. Do echoes of silence remain here and if so, what can we do to fill that silence? And how will this play out for our students once they've graduated?
This, then, is the ongoing work we must think of not only on this Day of Silence, but also throughout the year.
Written by Bill Ivey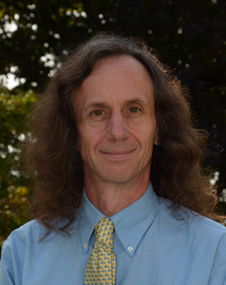 A dedicated member of the faculty, Bill Ivey is the Middle School Dean at Stoneleigh-Burnham School. He teaches Humanities 7 and the Middle and Upper School Rock Bands. Bill is the advisor for MOCA, the middle school student government, and he coordinates and participates in the middle school service program. Among his many hats, Bill also coordinates social media for Stoneleigh-Burnham School.