Recently, one of my Facebook friends posted that she was riding in a taxi when the driver told her, "You know, you're very lovely, very classy for a black lady." Flabbergasted (her word), she responded, "Well, I'm sure you THOUGHT that was a compliment, so thank you." During the Facebook conversation that followed this retelling, one of her friends commented, "Educating people out of their disillusion, fear, and stereotyping is a difficult thing, no?"
Yes, it is. And perhaps especially so with racism, since our country has evolved to the point where most people become deeply hurt, offended, and/or angry if someone calls them, or something they said, racist. That already complicates things enough when you're talking about someone's individual views, actions, and statements, but when someone, perhaps even someone who is deeply anti-racist, believes, does, or says something that is completely well intentioned but which is steeped in systemic racism, it can become almost impossible to start a discussion.
Interestingly, while sexism is also a huge problem in our country, I'm not sure the same level of tension always exists when attempting to start a conversation about a specific incident whether rooted in individual beliefs or infused by a systemic sexism. And that brings us to a recent incident at Phillips Academy, an independent high school commonly known as Andover as it is located in that Massachusetts town.
For me, it began with Soraya Chemaly (a Huffington Post writer on gender issues who, it turns out, attended Andover) tweeting a link to an editorial in "The Phillipian," the school's student newspaper, entitled "Not Post-Gender Yet." I read it, loved it, and retweeted it. The author of the editorial, a sophomore named Grace Tully, began by stating common misconceptions of what a feminist is and affirming the need to break down those (mostly negative) stereotypes, stating: "It is our job as a generation to change that." She wrote of the historical silencing of women and the ongoing issue of sexual objectification. Looking at a recent and ongoing controversy on her campus, she noted the issue of "a latent fear that the empowerment of women will result in the disempowerment of men." In the end, she argued, "The fight for gender equality should not be limited to any specific orientation, political party, culture, religion or sex. It is an incontestably human fight that should encompass us all."
The controversy at Andover to which Ms. Tully was referring involves elections for the Student Council co-presidents. Since the 1973 merger between the all-male Phillips Academy and the all-female Abbot Academy, the school has had only four female presidents. In what is commonly thought to be an attempt to address this issue, this year's Student Council implemented a structural change in which pairs of students would run as co-presidents. The finalists included one team of two boys and one team of a boy and a girl. Thus, when a letter to the editor of "The Phillipian" dated March 1, 2013 asked students to "Keep in mind long term consequences—the pair you select could set a precedent and break down any remaining barriers for both boys and girls to run in the future," tensions around issues of gender and fairness ignited.
Katherine Q. Seelye, in preparation for writing the "New York Times" article "School Vote Stirs Debate on Girls as Leaders," spoke to a number of students to get their takes on the situation. Many of the girls felt that "previous generations of women had broken down important legal barriers, but today's struggle was against a less overt sexism that was embedded in cultural attitudes." (Seelye) As Jinq Qu, an 18-year-old Senior, observed "The access has been achieved, but the equality in terms of roles has not." Meanwhile, Daniel Feeny, a 16-year-old student, said he had been raised with feminist values and added "It's surprising to me to get here and see women say they are still treated unfairly." The phrasing is key here - is the surprise purely that women are claiming unfair treatment, or is it also that women are in fact treated unfairly?
Daniel's situation brings up what many of this year's 8th graders in our school have told me about their experience. They believe strongly that, as girls, they are being taken seriously and genuinely encouraged to use and develop their voices. Their concern is what will happen in the outside world once they graduate. How will they develop the resilience, persistence, and assertiveness necessary to survive in a world that, like it or not, is still sexist?
Meanwhile, one of our faculty members shared a link to the "New York Times" article on our email system, intending to provoke (and succeeding in provoking) further thought on the notion of girls and leadership. And in point of fact, in recent years, our own school has not had vast multitudes of candidates for the position of President of Student Council even though, by definition, we know a girl is going to win.
Examine for a moment of your own reaction to the sentence you just read. What were you thinking? That girls need to push themselves in to leadership positions more often? That girls' leadership styles need to be considered? That girls' needs for connections can be both a blessing and a curse? That girls may have more difficulty being competitive than boys (for internal or external reasons)? That there may actually be non-gender-based reasons why more students don't run for President of Student Council? Really, any or all of these reasons, and more, could conceivably explain it. It's hard to tell for sure.
That's how systemic sexism works. It sits there in the background, coloring our thoughts, making it difficult to sort out the truth, silently and invisibly confusing the matter and complicating efforts to work for equality. An anonymous commenter on the original letter to the editor seems to have nailed it: "Also, the issue of a lack of female leadership stretches far beyond Andover and is arguably (and unfortunately) the result of sentiments deeply rooted in our collective cultural psyche. Simply changing the election model and asking voters to favor male-female tickets does not address these sentiments, and frankly seems like an artificial way of speeding up a reform whose time has not yet come, and whose time will not come until deeper issues are dealt with."
In other words, we need to fight Grace Tully's fight. John Palfrey, Andover's Head of School, set the context in saying, " "We do not live in a post-gender, post-race, post-class society. Girls have not had equal access to top leadership positions." The victorious candidates at Andover, Junious Williams and Clark Perkins, have said "During our presidency, we will host a series of campus-wide forums discussing gender equity in student leadership." (both quotes from the article by Seelye) My son attended Andover and in my experience, when they decide to face up to something that needs attention, they make a genuine effort to follow through.
So let's identify and discuss those deeper issues. Let's deal with them. And, echoing the words of John Palfrey among many others, let's have the courage to face up not to the work we have to do not only on sexism but also on racism. Let's also acknowledge the role of classism in this country. The issues are, after all, interrelated.
You can't change a society overnight. But you can start by changing, bit by bit, the parts of society that make up the whole. And when, one day, finally, even if it is (as Rachel Simmons implied earlier this year) after we are dead, we reach a critical mass of changed parts, we'll suddenly discover that society itself will have been changed.
And that will be one happy day.
Written by Bill Ivey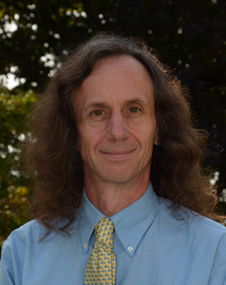 A dedicated member of the faculty, Bill Ivey is the Middle School Dean at Stoneleigh-Burnham School. He teaches Humanities 7 and the Middle and Upper School Rock Bands. Bill is the advisor for MOCA, the middle school student government, and he coordinates and participates in the middle school service program. Among his many hats, Bill also coordinates social media for Stoneleigh-Burnham School.