Recently, I had the chance to touch base with Sally, our Head of School, about some of the more political blogs I've posted here recently. I wanted to thank her, because I know that by no means would every school offer me the degree of freedom that I have here. She told me she views this school as being about finding one's authentic voice, which was in one sense an eye-opening moment for me. Of course, that is a major part of our mission statement for what we do for our students, and of course, role modeling is always an important part of what we teach. But explicitly allowing and even encouraging adults to find their own authentic voices as part of a full-school holistic model? At that point, we are truly making our mission statement a way of life rather than just a lofty ideal we may or may not even be able to remember if asked.
Over the weekend, I was participating in a two-day webinar with the Center for Teaching Quality about an exciting project we're going to be rolling out in a little while (I promise to keep you updated). At one point, they asked us to reflect on what our work with CTQ had meant to us. I thought immediately about two of the voices in the edublogging world who have influenced me profoundly, both people with whom I have worked in CTQ: Nancy Flanagan and Jose Vilson.
Nancy writes the blog "Teacher in a Strange Land" for EdWeek. Depending on the week, the "Strange Land" might be the world in which teachers struggle for voice in determining what's best for their students, or it might be the edublogging world itself. In "Seattle Grace," for example, Nancy begins with the question, "What would happen if teachers refused to do things that harm their students?" and develops a strong and supportive case for the actions being taken by Garfield High School teachers and others in actively resisting excessive and unhelpful mandatory district tests. In "Sports Authority," Nancy writes about the curious parallels between sports and the edublogging world and how men, who make up 25% of the teaching profession, not only are way overrepresented in the edublogging world but also far too frequently act in a manner that marginalizes and diminishes women. In the ongoing struggle for social justice, Nancy notes, "Moving the needle is never a function of a single act of civil disobedience. The best we can hope for is a little grace--... a generous disposition toward those who care about doing what's right."
Jose has two outlets, his own website "The Jose Vilson" and the Future of Teaching blog in which he engages in dialogue with another strong voice whom I greatly respect, John Holland. Writing both as a male teacher of colour and as a teacher, period, Jose tells truths that may make some people stand up and cheer and may also make some people uncomfortable (with, of course, a possible overlap between the groups). His tone is always forward-looking - by speaking about and acknowledging these truths, by facing down any discomfort we may or may not be feeling, we realize, we can go about the fundamentally important work of building a better world. For example, in discussing the reactions of people to Leonard Cooper's recent victory on Jeopardy in "The Curious Case of Leonard Cooper and the Perception of Intellect," Jose poses the question, "Do we still perceive intelligent as natural to some and exceptional in others?" and goes on to note that "Leonard Cooper represents the potential of all children to transcend the perceptions already laid upon them. He represents adults, too, at least the ones who understand that what we see isn't always what we get, and that's a good thing for Leonard. For too many of our children, the buzzer sounds long far too early, and the judges aren't as nice."
These two people, enabling me to think deeply about my practice and the implications that go far beyond the so-called "standard curriculum," have also inspired me to work harder and more actively for social justice in my school and in my life. In a sense, then, they stand by my side as I work with my 8th grade Life Skills students in following their lead and developing their voices. An activity on microaggressions led to deeper work with sexism; we then segued to look at girls' brains and learning styles and research on girls schools. They are currently developing four proposals to strengthen the program of our school, and Sally has agreed to attend one of our class meetings to listen to the proposals and discuss them with the girls. The initial ideas are far-ranging, creative, and powerful in their potential, and the meeting with Sally has the potential to be the kind of signature experience in their lives they can carry forward into a world less inclined to hear their voices than it should be.
I was talking to one of my colleagues last week about my perception that the school is experiencing a cultural shift from being a girls school to being a feminist school, and she instantly came up with a variety of examples. Of course, there are many different flavours of feminism, including a way of being that rejects the label of feminist even as it embraces feminist ideals. In a school whose goal is to enable girls to find their authentic voice and be their own best self, one would hope and expect that you would find all these different flavours of feminism - and indeed, you would. In a school devoted to bringing about social justice, you would hope and expect that those feminist ideals would occasionally find voice through other struggles - anti-racism, gay rights, a broader gender activism that looks beyond female and male - and once again, I think you would find this to be true. Among our Seniors, you can find proof in Mary's Women's Film Series, Nafisatou's speech on Martin Luther King Day and advocacy of the life work and legacy of Malcolm X, and Kate's quiet but firm affirmations that sexuality and gender expression are a part of our true selves that each person alone gets to decide for themselves. Among our middle school students, you see it in the Life Skills 8 class's questions about the full range of genders and sexualities, the Humanities 7 class's affirmations that no one should judge anyone else by anything other than their actions, and Star's ringing call one day to "Fight the Power!"
All teaching, Nancy and Jose helped me learn, is political. Every minute of every class is a lesson in civics, at least if I am doing my job right. Of course, as a given but also as an imperative if I am to help my students bring out their authentic voices, I must not promote a specific political ideology; as near as I can tell, I am successful in this. But, as I've stated before, I am uncompromising in my commitment to full equity for all people that they might be able to be their own true selves. So, too, it would seem, are my students.
I love my work.
Written by Bill Ivey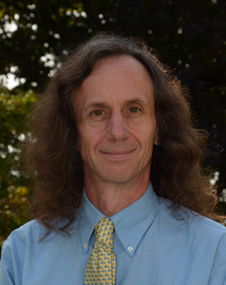 A dedicated member of the faculty, Bill Ivey is the Middle School Dean at Stoneleigh-Burnham School. He teaches Humanities 7 and the Middle and Upper School Rock Bands. Bill is the advisor for MOCA, the middle school student government, and he coordinates and participates in the middle school service program. Among his many hats, Bill also coordinates social media for Stoneleigh-Burnham School.