Spirit Week is always one of the highlights of the SBS year, from the traditional "Pajama Day" on Monday right through the traditional "Color Wars" skits on Friday. Wednesday is usually "Spirit Day" (we wear blue and white and/or SBS clothing). Tuesdays and Thursdays, however, change around from year to year, providing a nice blend of tradition and routine on the one hand, and freshness and innovation on the other.
In last week's 7th grade MOCA meeting, Heidi reported to her classmates that they got their top choice color, yellow, that Tuesday would be Twin Day, and that Thursday would be - and I believe this was actually a proposal made by the 7th grade - "Dress like the opposite gender" day. My Humanities 7 class, some months ago, asked me why men don't wear skirts ("You got me," I said, "Probably because femininity is undervalued in our culture."), so amid cheers of "Yay!" and "I get to dress like a boy!" were also cheers of "We get to see Bill in a skirt!"
Just a day earlier, 15-year-old feminist Lilinaz Evans (with whom I had recently networked through a unit we were doing in Life Skills 8 when I learned of her #TwitterYouthFeministArmy) had retweeted a posting by @WeekWoman: "I think more men should wear skirts. Rebel against gender barriers!" I couldn't resist responding: "My 7th graders are all for that. :-)" and Lilinaz wrote back, "Brilliant! Excellent for hot weather in the summer!" while @WeekWoman wrote "delighted to hear it!" Also, my friend Jean-Marc asked if I would send des photos.
It was a playful interchange, and yet underlying it was the notion that feminist goals are best met not merely by expanding options for girls and women but also by expanding options for all genders. Bill wearing a skirt, apparently, could be serious business indeed.
In fact, one week previously, the feminist blog Jezebel had published a posting entitled "Awesome Indian Men Don Skirts to Protest Rape Culture." (warning: strong language.) For those who may not be aware, six men have been accused of brutally gang-raping and murdering a young woman on a bus in New Delhi. The crime sparked unprecedented massive protests and calls for justice and an immediate end to rape culture. Among those were an event in which men wore skirts, coining the slogans: "Don't skirt the issue. Speak up, support women." and "Change mentalities, not clothes."
Author-activist Eve Ensler, perhaps best known for the play "The Vagina Monologues," decided to protest violence against women by declaring February 14 to be a day of "One Billion Rising." Spread by both social and traditional media, the idea has exploded, and is taking on wholly different characters in different locations. In the United States, Congress declined to renew the Violence Against Women Act last year; a new version of the bill is currently seeking an additional five co-sponsors as I write. This Act dates back to 1994, and has been routinely re-authorized every year up to 2012. The reasons for the controversy include protections offered to LGBT people, Native Americans, and undocumented immigrants, as if women who fall into one or more of those three groups are somehow unworthy of basic rights. Many One Billion Rising supporters in the U.S., unsurprisingly, intend to connect observation of the day to the fight to pass VAWA this time around.
So, yes, I will be wearing a skirt on "Dress like the opposite gender day" - February 14. And yes, I will do it in a spirit of fun and to support Spirit Week. But I will also be wearing a skirt to promote the elimination of gender role stereotypes, to protest rape culture, to support the Violence Against Women Act, and to participate in One Billion Rising.
That will indeed be a fashion statement.
******
Jezebel printed the following pledge in their posting which all those attending or even passing by the "men in skirts" rally were asked to sign, and in the spirit of One Billion Rising, I share it with you:
I promise that I will be sensitive to gender issues in the way I speak and act. I promise not to be passive. I will step in if I hear offensive speech or views. If I see something wrong happen in front of me, I will create a discussion and talk about my beliefs.
Written by Bill Ivey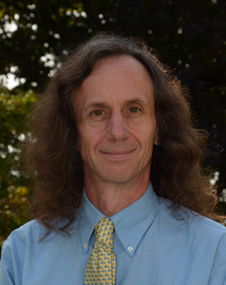 A dedicated member of the faculty, Bill Ivey is the Middle School Dean at Stoneleigh-Burnham School. He teaches Humanities 7 and the Middle and Upper School Rock Bands. Bill is the advisor for MOCA, the middle school student government, and he coordinates and participates in the middle school service program. Among his many hats, Bill also coordinates social media for Stoneleigh-Burnham School.