My shoulder grew progressively numb as my friend, convinced that everyone who claimed to be a pacifist had a breaking point, kept hitting it over and over. His face began to contort, and through gritted teeth he hissed, "I'm going to make you hit me." But I didn't hit back, and eventually he walked away in disgust. I've always wondered what he took away from the incident. Me, I took pride in having successfully maintained my principles of non-violence, though as it turned out I couldn't have moved my arm if I had wanted, and it hung uselessly at my side for at least five minutes as I walked to my next class and took my seat.
Several years beforehand, when I was in eighth grade, I first read Daybreak by Joan Baez. In a series of poems, dreams, vignettes, and essays, she explored her own pacifism and the principles by which she unflinchingly led her own life. It was one of the most influential books of my childhood.
As I grew in adulthood, though, I couldn't help but think that it wasn't always as simple as Ms. Baez made it out to be. One evening, not long after I began teaching here, we invited Andrea LaSonde Anastos, then co-minister of First Church in Deerfield with her husband George, to talk about her life and work. Among other subjects, she touched on her own pacifism, inspiring a question from one of the students as to whether she could ever conceive of a situation where she might choose to use violence. She said before she had children, she would have said absolutely not, but that she now realized that if someone went after her kids and she had the chance, she wasn't sure but what she would take them out without hesitation. Oddly, I was comforted by her admission. I believed (and still do) there was a big difference between personally suffering for one's principles and watching others suffer, perhaps even die, for the same reason, and I myself wasn't sure what I would do in the same situation. She made it safe for me to feel that ambivalence.
One month ago today, a gunman broke into Sandy Hook Elementary School, and you know the rest. This country has a history of mass killings, and so often the initial shock and outcry subsides after a few days or maybe weeks and nothing ever changes. But there is some evidence that things may be different this time. Here at Stoneleigh-Burnham, our Student Council has written all students "[inviting] you all to wear GREEN and WHITE to commemorate the one-month anniversary of the Sandy Hook Elementary School shooting in Newtown, CT." (Claire L.) No doubt, we will be just one of countless schools doing so.
And this doesn't even take into account the many individual actions private citizens may be taking, such as writing their Representative or Senators, or engaging people in conversations both face to face and through social media. In a country far too often divided along partisan lines, I feel like I've seen more sincere effort to reach across those lines and find common ground than with any other issue in months if not years.
As many people are saying, this is going to be a marathon and not a sprint. Meanwhile, according to the Children's Defense Fund, an average of eight children die each day due to gunfire. That's 56 kids each week, and nearly 250 since Sandy Hook. This lends a certain sense of urgency to the marathon.
Martin Luther King, Jr. has written, "There are some things within our social order to which I am proud to be maladjusted and to which I call upon you to be maladjusted. I never intend to adjust myself to segregation and discrimination. I never intend to adjust myself to mob rule. I never intend to adjust myself to the tragic effects of the methods of physical violence and to tragic militarism. I call upon you to be maladjusted to such things." (King)
I hold out hope that our country has finally become permanently maladjusted to events like Sandy Hook. I hold out that hope not only because I see Dr. King's ideals in my students but also because I know so many people across the political spectrum who have been deeply moved by Sandy Hook and who sincerely want to leave a better world to our children. It will not happen on its own and it will not be easy. But the alternative is simply unthinkable.
Written by Bill Ivey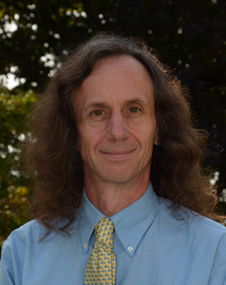 A dedicated member of the faculty, Bill Ivey is the Middle School Dean at Stoneleigh-Burnham School. He teaches Humanities 7 and the Middle and Upper School Rock Bands. Bill is the advisor for MOCA, the middle school student government, and he coordinates and participates in the middle school service program. Among his many hats, Bill also coordinates social media for Stoneleigh-Burnham School.