Annual discussions of whether making New Year's resolutions serves any purpose, and if so how best to make them, are by now as much a part of New Year's traditions as the resolutions themselves. But for those of us who teach, the chance to make mid-course adjustments is often irresistible. That tug may be especially strong in a year when many teachers report a more subdued holiday season than usual with the events of Sandy Hook so fresh in our minds.
The last day of school in December is usually a festive day, with the morning spent in classes, a holiday lunch with advisory groups, housemeeting with the faculty skit, an afternoon of athletics, packing, and relaxing, and the evening Winter Solstice Concert. This year was no exception, with perhaps one of the more touching examples being my French II class, which had voted to take their Unit 3 test the day before vacation rather than waiting until January and also decided to postpone the final day of in-class Secret Snowflake to add a special element of fun to the last class of 2012. They were all done by about 25 minutes into class, and one by one (or rather two by two) took off to their rooms, the school store, and other destinations so they could reconvene and take turns beaming at each other as they read cards and opened gifts.
Yet Sandy Hook was never far from our minds. On this, the third day of classes after the shootings, my seventh-grade Humanities class was suddenly ready to discuss it. In most cases, other students knew the answers to each others' questions, and I filled in details as needed. They did a great job of distinguishing verified facts from what was possibly true, and processed their emotions together as well. My eight-grade Life Skills class made snowflakes, as requested by the Sandy Hook PTA, to send to decorate the children's new school. And one of the middle school bands prepared to provide what would be one of the highlights of the day.
They had worked on an arrangement of the song "Titanium" by David Guetta et al. The arrangement was quieter and more contemplative than the hit version sung by Sia Furler, and the song's theme of resilience against overwhelming odds gained depth and resonance. However, the lyrics refer explicitly to gun violence, and a mere five days after Sandy Hook, emotions were still too raw and the sense of shock too strong for us to be able to do it, even this arrangement, even sung by children. They were deeply disappointed, but understood and accepted graciously the decision to strike the song from the evening's program.
Several hours later, one of the band members came up to me and asked if they could still perform that evening if they could find a song they all already knew. I said yes, provided I could learn the music in time and we could find time to practice. And so, at 3:30 that afternoon, we gathered in the gym with newly printed lyrics sheets for "Mistletoe," performed and co-written by Justin Bieber, and began rehearsing. Greg Snedeker, the instrumental music teacher, joined us partway through to add a bass line, and after an hour's work, we felt ready to go.
That evening, as the students and Greg set themselves on stage, I explained to the audience about the program change, our reasons why, and what the new piece would be. I won't pretend the performance was flawless - for starters, I missed the second chord of the piece. But we hung together, the kids sounded great, and by halfway through the piece the audience, caught up in the spirit, began to clap along. They stayed with us through the end of the piece, and their applause was warm. Several people said they would keep a memory of the evening, one describing it as "a Christmas miracle."
Sorting out facts, processing emotions, dealing with the need to do something, and affirming our common humanity are all common responses to tragedy. But, as countless people have written over the past few weeks, if that is once again where it all ends, then all the sound and fury will truly signify nothing. And, as countless people have also written, this will be a marathon and not a sprint. There are convincing arguments that we need a national conversation leading to action in the areas of gun control, the treatment and coverage of mental health issues, the cult of masculinity (and the supporting cult of femininity), and how best to protect our children. I also read a proposal for a new national War on Poverty as part of our response.
In short, we need to address the root causes of such horrific events in the long term as well as figure out the best course of action in the short term while we are working to better our world. It's work that can quickly become overwhelming - how can each of us, as just one person, hope to accomplish all this? But at the same time, it's work none of us need do all alone and all by ourselves. Each of us can find our own ways of addressing various issues which will intersect, overlap, and reinforce each other.
And so, as 2013 begins with that feeling of hope and promise that accompanies all new beginnings, let us rededicate ourselves, each in our own way, toward bending the arc of the moral universe towards justice.
Written by Bill Ivey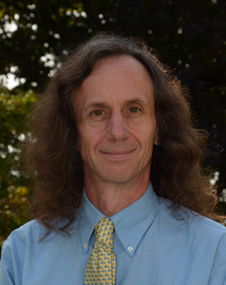 A dedicated member of the faculty, Bill Ivey is the Middle School Dean at Stoneleigh-Burnham School. He teaches Humanities 7 and the Middle and Upper School Rock Bands. Bill is the advisor for MOCA, the middle school student government, and he coordinates and participates in the middle school service program. Among his many hats, Bill also coordinates social media for Stoneleigh-Burnham School.