Like most of the country, I spent most of the weekend feeling devastated and overwhelmed. I was fortunate in that our annual girls basketball tournament took up most of my time on Friday and Saturday and insulated me somewhat from the pain and anguish of thinking about the tragedy at Sandy Hook Elementary School. Except between games. And during half-time. And during time-outs. And sometimes in between time-outs. There's a comfortable and safe feeling in a gym anyway, especially at our school, and as a long-time fan of girls and women's basketball, watching a level of aggressiveness and intensity, a quality of competition, and an evenness of talent I did not remember from some of our earlier tournaments did my heart good. But a dull ache was there and, sooner or later, I was going to have to face up to what had happened in Connecticut, as a teacher and as a parent.
A young teacher named Erin had written the MiddleTalk listserve run by the Association of Middle Level Education asking for advice on how to talk about the tragedy with our children and how best to support her students. My friend Rebecca Lawson had written back with an impressive list of resources from Fred Rogers's video, soothing in its sensibility and sensitivity, to an article in the Washington Post. That seemed a good place to start, and I worked my way through the resources, periodically staring out into space before shaking my head and refocusing on my computer screen.
I also knew I wanted to stop through my office before classes on Monday and read through our school's Crisis Plan. I knew right where it was, but felt I could not live with myself until I had read through it again. And again. In my mind's eye was the vision of my Humanities 7 students sprawled in their beanbag chairs, so comfortable and so safe in so many ways, brimming with the confidence and happiness that comes so much more easily with such a feeling of security. Nothing, I vowed, nothing would take that away from them. Not if I had anything to do with it.
And I can't even bring myself to write about my son. Suffice it to say in an earlier draft of this blog, it took me five minutes to even bring myself to type the letter "s" as tears streamed down my cheeks. I picture him walking from his dorm to class, sweet and kind and smart and talented and with so much still before him...
On the way home from school Sunday night with the Crisis Plan on the seat beside me, I felt a deep surge of emotional anguish and needed to do something to calm myself down. I reached for my phone, and asked Siri to play me some Taylor Swift. "Long Live" celebrates Ms. Swift's relationship with her band and the notion that what they built together will endure, and the song resonates deeply with me as I think of my own Rock Band students (as readers of "Moving Mountains" may remember). The song "The Best Day" (about which I've also written here before) celebrates her relationship with her family in general and her mother in particular. The sounds of the home video of her at age three talking with her mom about her pigtails got to me, and by the time she got to the line "I know you're not scared of anything at all" (Swift) I was a wreck.
Because of course parents are scared, sometimes. Parents are human. Parents love their children so much it almost physically hurts at times.
And teachers feel much the same way about our students. My friend Jose Vilson wrote a beautiful blog on the need to put children first, truly listen to their voices, to let them shine. Taylor Swift echoed those thoughts in "The Best Day," writing "And I love you for giving me your eyes / Staying back and watching me shine." (Swift) But Jose also wrote about the unbearable loss of children's voices at Sandy Hook: "Their hopes, dreams, and visions for the future in a world in dire need of real change, not just a shuffling around of things for compliance, all gone." (Vilson)
What might we do to support real change? How can we find the will and the way to actually take action this time and reduce the likelihood any other children's voices will ever again be silenced before their time? In a discussion I had with friends and relatives on my Facebook page, we touched on the need to acknowledge and address a variety of issues. Arguably, the availability of guns, the stigma attached to mental health issues, the unwillingness of insurance companies to provide the same level of coverage for mental health as they do for physical health, our consumption of graphic violence and the provision of same by the media, and the cult of masculinity are all contributing factors we need to address, urgently and by whatever means possible.
In "The Best Day," Taylor Swift also writes about being bullied at school and her mom's efforts to help her handle it. As she thanks her mom for having started her on the path to healing, Ms. Swift acknowledges "Don't know how long it's gonna take to feel okay," and certainly tonight I can relate. But I can also guess where it is likely to start. Tonight, I will text with my son before bedtime, wish him well on exams, tell him I love him. And tomorrow, I will walk into my Humanities classroom, sit down on the floor, and ask for any student announcements. The chances are high are least one of them will refer to the Sandy Hook tragedy, and I will handle their questions as best I can, honestly and with compassion. If they express a need to do something, we can talk about that and I can share what I am planning to do. And when the time is right, we will turn back to our normal routines. My students will read the newest installments in their ongoing independent writing stories, applaud after each reading, and offer helpful comments. We will finish casting Act V of "A Midsummer Night's Dream," the play which we are producing in collaboration with other classes around the country, and we will start reading through the script to ensure they understand what each individual line means. Gradually, a sense of normalcy will return.
Some of our collective innocence is lost forever. But our hope for the future need not be.
Written by Bill Ivey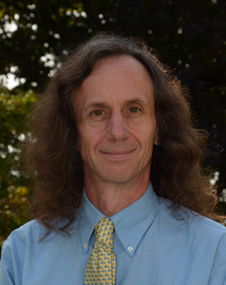 A dedicated member of the faculty, Bill Ivey is the Middle School Dean at Stoneleigh-Burnham School. He teaches Humanities 7 and the Middle and Upper School Rock Bands. Bill is the advisor for MOCA, the middle school student government, and he coordinates and participates in the middle school service program. Among his many hats, Bill also coordinates social media for Stoneleigh-Burnham School.