Bullied Teen Amanda Todd Uploads Chilling Video Before Being Found Dead buff.ly/TpuvZq Another sad case.
- @JudyArzt, Twitter posting, October 13, 2012
The video to which Judy is referring is harrowing to watch. You can't see Amanda's face, you can't hear her voice, you can only see - right up to just before the end of the video - her holding and showing us pieces of paper on which she has written her story. Some of the most painful are pushed up closer to the camera. Only once does her hand move away from this task, to briefly wipe her eyes as she holds up the paper reading "I thought he liked me." She attempted to kill herself twice, and her death, still under investigation, is currently being presumed a suicide.
Here in Western Massachusetts, as I suppose is sadly true of many parts of the country, we are no strangers to bullied children being driven to suicide. In 2009, 11-year-old Carl Joseph Walker Hoover hung himself following repeated taunts of being gay, and in 2010, 15-year-old Phoebe Prince also hung herself following relentless in-person and cyber-bullying. In Ms. Prince's case, even her suicide didn't cause the bullies to cease and desist; they posted taunts on a memorial Facebook page, though those were eventually removed. At the time, Massachusetts had no anti-bullying law on the books, but the horrific details of Ms. Prince's case along with the efforts of Sirdeaner Hoover, Carl's mom, led finally to the passage of "An Act Relative to Bullying" on May 3, 2010.
In a recent posting, "Don't Let Me Down [On Opening Up When Things Go Down]" José Vilson wrote on the difficult topic of what to do when you as a teacher suspect one of your students may be at risk of harming herself or himself. With the post coming so close to the recent tragic loss of 17-year-old Emily "Milly" Blosdale-Dionne, who attended Stoneleigh-Burnham for part of her seventh grade year, it moved me deeply. I wrote a comment telling my memories of Emily and how shaken I was to learn of her suicide.
Another cyber-friend of mine, Heather Wolpert-Gawron, followed up with a story of when she happened to overhear a student telling her friend that she was considering killing herself. Having overheard the comment rather than having someone come directly to her, Heather struggled with what to do, eventually settling on sending a note to the student through her school's network messaging system. There was no response, but several days later, the girl approached her to thank her for caring and to say she had talked to her parents about how she was feeling and they were getting her some help.
A third person, using the pseudonym "No name for now," added in another story of a suicide, the third in five years at her/his school. S/he continued to speak of teaching an advisory class, and rhetorically asking, "'What's the worst thing that can happen if you do tell a counselor? Your friend gets mad, right? What's the worst that can happen if you don't tell?' Silence." "No name for now" pointed out that, for all the attention given to bullying, not one of those suicides was associated with bullying. Neither was Milly's, and Heather makes no mention of bullying in her own comment. "No name for now" has a teenager who wishes schools would speak more openly of depression, how to recognize the symptoms, and what to do if you see your friend falling into the abyss.
One of my advisees recently spoke to me about feeling that deaths were piling up in her life. She had connections with Milly, and then knew about the student in our community who had recently experienced a death in her family. We ended up having a discussion in advisory about grief, how it varies from person to person, and how best to react to and support friends and other people who are grieving. The girls were most worried that they not say the wrong thing and make the situation worse, and we talked about how simply expressing sorrow, acknowledging that words seem inadequate, and being there for the person however they might need you would be deeply meaningful.
Ellen Carter, our school counselor, recently announced the annual formation of the faculty group "SOS - Support Our Students," designed to identify faculty members to whom students can turn in confidence if they have deep concerns for their own health or for that of their friends. Though often connected to substance abuse and eating disorders, the program can expand to handle any concern. Someone turning to SOS would not be subjected to school discipline, but would be connected to various support systems, one of which would necessarily be her parents. The goal is to facilitate calls for help that might otherwise go unvoiced, and get kids the help and support they need to lead the long, healthy, happy and successful lives we wish for them. Of course, all adults at SBS are ready and willing to support kids at a moment's notice, whether or not they are in the SOS group.
On the day of Emily Blosdale-Dionne's memorial service, I was talking to my colleague Karen Suchenski, who lives and has taught in the district in which Emily was attending school. We were both hurting, for her and her family specifically but also for kids in general, what they go through, how much you care for them, and how much you want to protect them. Of course, kids need our protection less and less as they grow older, and need to learn increasingly to protect themselves. Still, the only way Karen and I could begin to think to respond to this tragedy was to work ever harder to support and care for kids, strengthen their intrinsic sense of self-worth, and identify anyone who may need extra support before things reach a critical stage. Whatever else we do works best when it springs from a healthy self-image. This is a large part of the mission of our school, one which we always feel and always serve, but one which never feels more critical than at times like these.
Written by Bill Ivey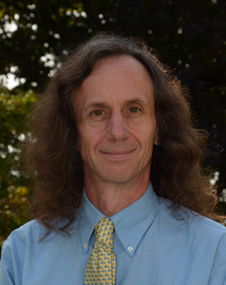 A dedicated member of the faculty, Bill Ivey is the Middle School Dean at Stoneleigh-Burnham School. He teaches Humanities 7 and the Middle and Upper School Rock Bands. Bill is the advisor for MOCA, the middle school student government, and he coordinates and participates in the middle school service program. Among his many hats, Bill also coordinates social media for Stoneleigh-Burnham School.