All knowledge is held in community. - Peter Sellars
As I was approaching the dining commons of my son's high school, I heard someone shout "Mr. Ivey? No way!" One of my son's best friends walked over to me, a huge smile on his face, and wrapped me in a bear hug. We spoke for a bit, and he pulled out his phone to get a picture to send to my son. The picture taken, I continued on my way to dinner.
I had returned to Andover to attend the inaugural ceremony honoring five Alumni of Distinction. Such ceremonies reveal much about schools - whom do you choose to honor, and why? Some schools honor the most famous, others potential donors. Others look to find someone who truly exemplifies the school in a special way. Andover? Their motto is "Non sibi," "Not for self," and that thread ran through the lives of all five of their honorees. Even with the obvious choice of an ex-President, George H.W. Bush, Andover chose to focus on his lifetime of service, devoting a third of their write-up to his time in the military and focusing on achievements such as the end of the Cold War, the creation of the EPA, and the Americans with Disablities Act. Another honoree was Wendy Ewald, a photographer who has turned her work to advancing the cause of social justice. Chemist William Knowles facilitated the treatment of Parkinson's disease and biographer Stacy Schiff exemplifies a life where you take the time to "slow down and think." (Schiff) And then there was Peter Sellars.
His name was vaguely familiar to me (and not just because it is only one letter off from the great actor Peter Sellers), but it quickly became clear that he was truly something special. Like all the honorees or their representatives, he spoke passionately about what his experience at the school had meant to him. Most particularly, he spoke of his experiences with the arts faculty in the early '70s. Noting that in these days of NCLB, arts programs have been decimated for over a decade now, he spoke movingly of the importance of schools like Andover where the arts continue to play an important role: "The arts teach us to think, not what to think." (Sellars) He spoke, too, of the importance of the arts in teaching us to "recognize the distance between dream and reality and every day make that distance a little less." (Sellars) His words would resonate, I should think, with members of the Stoneleigh-Burnham community as well.
Abut three years ago, Stoneleigh-Burnham instituted our own "Distinguished Alumna Award." Karen von Lengen '69 was the first recipient. Ms. von Lengen, a noted architect and professor at the University of Virginia, points out in the first paragraph of her personal statement that she helped with post-Katrina reconstruction, worked to develop sustainable and emergency housing, initiated dialogues on the relationship of ethics and aesthetics, and co-founded a university initiative to improve the environment. The next two recipients, Dr. Denise Bruner '70 and Judith Howard Whitney-Terry '56B P'77, also exemplify service. Board Chair Kathy Opdycke '70 wrote that "Denise's efforts to help others reflect the spirit of a Stoneleigh-Burnham student. She has broken the barriers of gender and race in her profession..." and Ms. Whitney-Terry joined the Peace Corps 31 years after her graduation, continuing to maintain ties to the organization and to work in civic service.
Some weeks ago, I was participating in an #isedchat on Twitter when Lorri Carroll of Hamden Hill School asked me how we determined which of our alumni/ae are successes. My instinctive answer was that they themselves get to decide that. As I thought more deeply about it, I realized that when we talk about our graduates, the phrase "S/He's doing well" primarily communicates that that person is happy in life. The ensuing conversation helps us figure out why. If the mission of our school is to help our students be their own best selves, by definition the measure of our success varies with each individual graduate.
Recently, I had the pleasure of meeting the new Chair of the Alumnae Board, Sharon Lewis Gaffey '68S. Academic Dean Alex Bogel and Dean of Students John Larson were also present, and at one point in time Alex and I embarked on one of our many reflective dialogues as we were taking turns describing what was going on in the Upper and Middle Schools and how early growth in young adolescents is supported and enhanced as they continue in our school. Ms. Gaffey commented on how much she would have enjoyed being in these classes, remembering the classes she herself had taken, becoming for a moment the SBS student she used to be and in many ways still was. She concluded by saying that the school had given her the gift of the ability and will to use her own voice.
Listening to her, I couldn't help but think back to when the school had renovated Reception and the front lobby. One morning, I happened to be passing through when some young alumnae had just returned. "Everything's so different!" they lamented. I responded, "Yes, it looks different, but walk around. You'll find that deep down, it's the same school you knew." And of course, it was. A sort of collective soul animates everything we are doing, have always done, and continue to do. It is what makes Stoneleigh-Burnham what it is and what brings together members of the community from every era. Every good school has it. And with the best schools, that collective soul works together to elevate everyone.
Written by Bill Ivey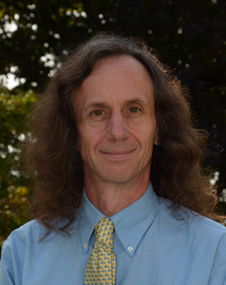 A dedicated member of the faculty, Bill Ivey is the Middle School Dean at Stoneleigh-Burnham School. He teaches Humanities 7 and the Middle and Upper School Rock Bands. Bill is the advisor for MOCA, the middle school student government, and he coordinates and participates in the middle school service program. Among his many hats, Bill also coordinates social media for Stoneleigh-Burnham School.