"A good friend of mine who used to be Head of School here," I began, "used to say, 'The right thing is easy to do.'" I segued to a description of a 7th grader, the day's recipient of the "Shining Star" award, who found the courage to go up to an adult who was smoking outside our gym, someone she didn't know, and tell that person we were a non-smoking campus. A friend of hers who was proud of her had originally told me of the moment, something which this girl readily acknowledged she had done but which she also felt was no big deal. From my perspective, of course, finding the courage at the age of 12 to go up to an unfamiliar adult and let them know they are breaking school rules is a big deal. The right thing to do, absolutely. But easy?
Of course, in general it's much easier to do the right thing than the wrong thing. We make that kind of decision probably hundreds of times a day, from the moment we first wake up and decide that yes, we will get dressed and go to school to the moment when, with the day behind us, we finally decide to return to bed and get some much-needed and necessary sleep. Even hitting the brake at a stop sign is a conscious decision to do the right thing. Indeed, my sister-in-law has observed that four-way stop signs restore her faith in human nature.
Where it becomes more difficult is when doing the right thing carries some sort of a risk. Context is everything here. What are you going to do about that stop sign if you're racing someone and your pride is on the line? If your friends in the car are relentlessly teasing you that you couldn't break a rule if you tried? If you're running late for work and have been threatened with being fired? Or, much more seriously, if you're being pursued by someone who has physically threatened you?
Often, too, it's harder to do the right thing when the alternative is to do nothing and stay out of it. My college's honor code meant that faculty members were not allowed to supervise exams. Instead, we students signed a statement that signified that we had "neither received nor given any information on this test." Additionally, we were required to report any instances of cheating we observed or, under the rules of the honor code, we were equally guilty. I always kept my eyes glued to my test papers lest I inadvertently see anything I would have had to report. Technically speaking, I was honest and true to the honor code. Ethically speaking, too, you can argue I was in the right not to be hyper-vigilant and out to get people. But ultimately, if everyone had done as I did, we would not have been a community attempting to live up to the ideals of our honor code; we would have been individuals living in separate worlds. And this situation is much less serious than standing by and watching bullies taunt an innocent victim, as at least I could argue I didn't know if anything wrong had taken place.
And what if doing the right thing carries a serious risk as opposed to remaining uninvolved? Malala Yousafzai took a bullet to the head for having stood up for the education of girls, and she is just one of countless thousands who are taking that risk every day. Tell me it was easy for any girl in Pakistan who knew what had happened to Ms. Yousafzai to wake up the next morning and go to school as if nothing had happened. For that matter, what civil rights would now exist in this country if people from early suffragettes to desegregationists to gay rights activists had not stood up for what was right despite potential risks to life and limb?
The key is where to find the courage to do the right thing when it's not necessarily easy to do. External rules and motivation will be next to meaningless here. It's got to come from deep inside you, from an internalized sense of right and wrong which may for some of us be infused with religious and/or spiritual beliefs. Often, it helps to consider the alternative. Reaching out to others of like beliefs for support and comfort can also help. Periodically, most of the visionary and innovative educators I know suffer from self-doubt when faced with strong resistance, and turn to others for reassurance that we are not rushing headlong down a path that will cause serious damage to our students but rather are lighting the way to a more responsive, humane, and ultimately effective educational system.
In the end, if you strive always to do the right thing, you can go through life with your head held high knowing you are truly being your best self. And, considering the alternative, maybe that means the right thing truly is easy to do. Perhaps my friend, Patrick Collins (Head of School from 1995-1998), was right after all.
Written by Bill Ivey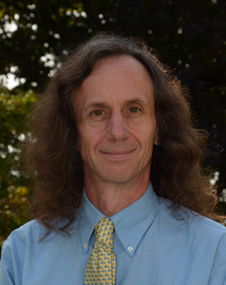 A dedicated member of the faculty, Bill Ivey is the Middle School Dean at Stoneleigh-Burnham School. He teaches Humanities 7 and the Middle and Upper School Rock Bands. Bill is the advisor for MOCA, the middle school student government, and he coordinates and participates in the middle school service program. Among his many hats, Bill also coordinates social media for Stoneleigh-Burnham School.