My apologies in advance for including original quotes "as is"; sometimes, softening ugly words obscures the true ugliness of the message they were meant to convey.
Sometimes, you have to make empty gestures in the hope that in the long run, they will add up to something meaningful. Thus, I put on my purple tie to accent the black shirt and pants I wore as a participant in our Family Weekend performance a few weeks ago. I had no idea how many people knew it was Spirit Day of Ally Week, when one might choose to wear purple to take a stand against bullying, especially of LGBT youth, but I knew I couldn't in good conscience completely ignore the day, and I knew I would be able to reflect on it and share my thoughts once the intense and rewarding busy-ness and fun of Family Weekend was behind me.
The gesture seemed especially puny given recent commemoration of the 50-year anniversary of voter registration drives of 1962. At a time when lunch counters had only recently been desegregated due to the Greensboro sit-ins, when pernicious and vicious segregation of schools persisted in many regions of the country, and when tension was high as the country was forced to confront relentless demands for change, members of the Student Non-violent Coordinating Committee (SNCC), their supporters, and of course Black people who attempted to register to vote, were literally risking life and limb. Sam Block reports that on his arrival in Greenwood, Mississippi, "The sheriff came up to me and he asked me, he said, 'Nigger, where you from?' I told him, 'Well, I'm a native Mississippian'" He said, "Yeh, yeh, I know that, but where you from? ... I know you ain't from here, cause I know every nigger and his mammy.' I said, 'Well, you know all the niggers, do you know any colored people?" (Block) In looking back on that fall, Block goes on to describe how a pervasive fear among Black people of being fired, evicted, beaten, bombed, and murdered gradually gave way to a sense of solidarity such that when the sheriff would spy and pursue Block and other "race-mixing agitators" (Block), they knew of places in every block to which they could retreat in safety to watch the fruitless search for them out the window. Gradually, the voter registration drive began to take hold and bring about positive results.
Me? I wore a purple tie.
John Gorka's version of Eric Andersen's song "Thirsty Boots" came up on my phone today, and as I listened to the words meant to comfort friends who had recently returned from the front lines of the civil rights movement of the early 1960s, images of those days and images of my own students mingled in my head. I saw my Humanities 7 students asking, "Why are people racist?," "Why are children's minds so advanced?," and "Why do some people not care about their children?" and I saw images of federal marshals escorting Ruby Bridges to school in New Orleans as virulent segregationists shook their fists and shouted epithets. I saw Sophia, the leader of the school's Gay-Straight-Alliance, smiling at me with special warmth the day after I emailed her about an upcoming GLSEN event, and I thought back to the Stonewall riots, often cited as the birth of the gay rights movement, with the key role of transgender people occasionally though much less often recognized as well. I saw Alissa, one of my Humanities 7 students from years past, affirming, "Oh, I am so going to change that!" upon learning of the gender wage gap, and I thought of Gloria Steinem helping to launch "Ms." magazine. I thought of the Middle School Parents' Meeting when parents' intense love for their daughters merged with my own deep caring for my students in a mutual understanding of the strong network of support we were building for these young adolescent girls, too often misunderstood and belittled. And I came to feel a resurgence of hope. "Then tell me of the ones you saw/ As far as you could see / Across the plains from field to town / Marchin' to be free / And of the rusted prison gates that tumble by degree / Like laughing children one by one / They look like you and me / (...) Where the voices drift up from below as walls are bein' scaled / Yes all of this and more my friend your song shall not be failed / Oh take off your thirsty boots and stay for awhile..." (Andersen)
Ruby Bridges has written and spoken of a conversation with her teacher, who had noticed her student's lips moving as she navigated past the crowds of protesters. Asked what she was saying to them, Ms. Bridges responded that she wasn't talking to them, she was praying for them: "Please be with me, and be those people too. Forgive them, because they don't know what they are doing." (Bridges) Her teacher gave her a big hug, with "this look on her face like my mother would get when I'd done something to make her proud." (Bridges) Small gestures of solidarity do matter, after all, to those who understand them as such. And small gestures of solidarity do not, moreover, preclude larger and more significant actions.
"And all my instincts, they return / and the grand facade, so soon will burn / without a noise, without my pride / I reach out from the inside" (from "In Your Eyes" by Peter Gabriel). I could choose to berate and belittle myself for doing so little during Ally Week. Or I could choose to acknowledge my good intentions and use the day as a springboard for more significant actions. As images of my students, so strong, so curious, so happy, so passionate about seeking justice, passed before my eyes, I knew what course of action I would choose. Perhaps I could begin by reaching out to other people involved in the struggle. Let's see. "Sometimes, you have to make empty gestures in the hope that in the long run, they will add up to something meaningful..." Yes. That is a step in the right direction. One step. But a step nonetheless.
Written by Bill Ivey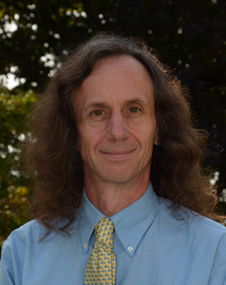 A dedicated member of the faculty, Bill Ivey is the Middle School Dean at Stoneleigh-Burnham School. He teaches Humanities 7 and the Middle and Upper School Rock Bands. Bill is the advisor for MOCA, the middle school student government, and he coordinates and participates in the middle school service program. Among his many hats, Bill also coordinates social media for Stoneleigh-Burnham School.