It's all about the beanbags. The nine students in my Humanities 7 class had been adamant that we would able to fit the 22-27 relatives they were expecting for Family Weekend into our relatively small classroom, and when I demurred, they insisted that wherever we go, their beloved beanbag chairs should follow "because our parents should see what our class really looks like." So it was that I greeted Barbara, who was responsible this morning both for cleaning my regular classroom and for cleaning the Meeting Room where we would be moving for the day, at a bright and early 6:15 A.M. I had my temporary classroom set up, and chairs set out for visitors in the Jesser 3 classrooms, by 7:00, and zipped to the dining room to fill my travel mug with decaf (a special treat for a special day) and soy milk.
Students, parents, and other visiting family members began filtering in by 7:45, cries of, "You brought the beanbags!" filling the air accompanied by knowing parental smiles. We began class by continuing a previous lesson on lying, the better to inaugurate our newest student-designed unit developed from the seed question "Does the media lie?" around the eventual theme question,"How does the media alter perspectives of the truth to change what you think and feel?" Students did a think-pair-share activity around different kinds of lies, thinking on their own, in groups of two or three, and then in the full class about their thoughts and reactions. They eventually combined to write their own definition of lying, "Lying is an untruth, possibly ongoing, being told that brings a consequence that may or may not be desired, yet is always bad." That will serve as a working definition as we go through the unit, both with group activities on topics like news coverage of the elections and photoshopping of models, and with individual research on personally-chosen questions.
Housemeeting was impressive, all the more so because it wasn't really any different from how it would normally be. Certainly a highlight, however, was the introduction of the brand new Middle School Interscholastic Equestrian Team, complete with a visit from the school mascot Athena the Owl, with Academic Dean Alex Bogel's booming voice announcing each student as she strode down the center aisle waving her hand much as Queen Elizabeth II does.
Sometimes, a class can get disturbingly quiet on Family Weekend, but if anything, the presence of parents and siblings brought out the best in my French II class as they worked to understand the ins and outs of the just-introduced tense, the passé composé. They all raised their hands and tested out their new knowledge, never hesitated to ask questions, and achieved a much deeper understanding of the tense in our short 20-minute class.
I was about the third person to go through the lunch line, the better to scoot to the gym and prepare for the performing arts show. I tuned up the girls' bass and guitars, checked the sound for the keyboards, played a quick fill on the drums just for the fun of it, and did mic checks. All seemed ready, and after an eternity of waiting, the rock bands took the stage. Judging from the tone of respect in the congratulations I received after the show, the bands succeeded in connecting with their audience and imparting a spirit of fun. Certainly Heather's decision to grab her mic and abandon the stage, striding around the gym as she belted out the vocals to "50 Ways to Say Goodbye" helped set the tone, and the explosion of applause complete with shouts and whooping showed how much the audience loved it. That noted, all three groups got sincere and heartfelt, and well-deserved, compliments.
Immediately following the show, we had a Middle School parents' meeting to discuss the institution of what we expect will be a new tradition, the eighth grade trip to Washington, D.C., go over the developmental stages and needs of young adolescent girls and how our program is explicitly designed around research to meet those needs, and determine parental goals for the year. Partway through, I asked for questions, thoughts, and concerns, and wasn't quite sure what to think when a long silence ensued. Years of practice leaving space for my students to talk caused me to wait patiently, and then one mother raised her hand and commented, "I'm overwhelmed, and I just feel so lucky that my daughter is here with all you are doing for her, the knowledge and passion you bring to your work." A number of other parents nodded and murmured their agreement. The parents (and a few grandparents - as I commented, "If you care enough about the kids to attend this meeting, you get to have a say here.") then came up with a solid list of goals for the year, and used a system of placing stickers to set priorities.
My advisees did a wonderful job with their student-led conferences, speaking about their work thus far with touching honesty, pride, and a willingness to identify areas where they need to grow and develop genuinely practical plans to bring about that growth. Several parents commented on how much they preferred the format, as students became agents of their own destiny, not the passive subjects of adult discussions and judgments.
Saturday afternoon, as my part in the weekend was winding down (being neither a houseparent nor an on-duty chaperone), I found myself standing at the soccer game with Academic Dean Alex Bogel. I filled him in on my experiences of the weekend, and he jumped in to let me know how delighted he was to have been asked the question of how our institution of the IB program has affected the middle school and other younger grades. Pointing to the hexagon that symbolizes the IB program, he noted the student at the center of it all. "And that," he said, "is why we didn't have to change a thing about the rest of our program."
Student voice. Her best self. This is the mission of the school, and when you stay aware of and true to it, amazing things can happen. You couldn't have asked for a better Family Weekend. I wrote the Middle School faculty earlier today, "As Middle School Dean, in particular at the Friday Parents' Meeting, I get the heartwarming experience on Family Weekend of watching parents come in curious about why their kids are so happy here, and becoming increasingly, almost overwhelmingly for some, touched to see all we do and all that goes into it. So thank you all for making that happen, both over the last five weeks and then in particular the last two days. It's a ton of work, I know, and it brings amazing results." So it is, and so it does.
- Bill Ivey, Stoneleigh-Burnham Middle School Dean
Written by Bill Ivey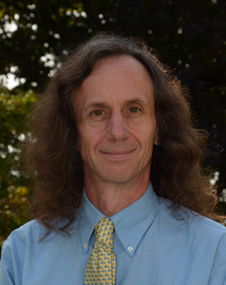 A dedicated member of the faculty, Bill Ivey is the Middle School Dean at Stoneleigh-Burnham School. He teaches Humanities 7 and the Middle and Upper School Rock Bands. Bill is the advisor for MOCA, the middle school student government, and he coordinates and participates in the middle school service program. Among his many hats, Bill also coordinates social media for Stoneleigh-Burnham School.