They all believe that school has a purpose and they have a place in it. They just don't seem to understand how they relate to the methods used in school. - Heather Wolpert-Gawron, writing in her blog about her students
Twelve weeks of testing. Approximately one-third of the school year. That is what a friend of mine who teaches in Michigan was told to expect. Even for those who believe testing has its place in education, that moves past excessive and past inhumane right into the territory of the outright insane. When are those kids even going to learn the stuff on which they're going to be tested? And beyond that, when are they going to have time to kick back and have conversations like my Humanities 7 students have been having?
Because we have been having some amazing conversations. They love to discuss books, and can easily spend up to an hour or more talking about a single chapter in our morning reading book, Anahita's Woven Riddle by Meghan Nuttall Sayres. Thoughts on arranged and love marriages. Questions about Islam. Reflecting on the importance of seeing the world from multiple perspectives. Comparing early 20th century Iran with both the Arab world and the United States of today. Noting, questioning, admiring the author's style. And innumerable predictions about what is coming next in the book. After a short break to go over their homework assignment for the next day, they are ready and eager to jump in to another literary discussion about the group novel The Silent Boy by Lois Lowry. We could probably spend the entire 1 hour 45 minute double-block doing nothing but talking about reading and be sorry the period ended. I've learned to limit them to one literary discussion a day, knowing if I don't, there won't be remotely enough time for them to work on and complete their individual research projects.
I thrive on these interactions, but of course it's about them, not about me. So yesterday, I just had to know what they were thinking. What was and wasn't working well for them in class discussions. What responsibilities belonged to students and to the teacher. They put deep thought and care into their responses, and as expected, pointed out some things I had overlooked. Overall, the emails they sent me showed they loved their discussions, thriving both on being able to express their ideas and on being able to hear what everything else was thinking. They felt they were doing a great job of being respectful of differing opinions and being able to agree to disagree. However, they felt sometimes people might stretch their answers out longer than necessary, and that ideas were getting lost and threads of conversation broken in the process. They felt their responsibilities were to stay on topic and be concise, and mine were to continue to encourage them and leave space for their voices to emerge. There was not a single point made with which I might (respectfully!) disagree.
Earlier in the week, I received an email from one of my older students, now in the Upper School. She was sharing an article with me which her father had shared with her, about students evaluating teachers. I had written her back to thank her for the article and to react to it, and now I decided I had to write her again and let her know what had happened in my Humanities 7 class and how, perhaps, her email had been working subconsciously on me to cause me to seek my students' input in writing rather than through conversations as I often do. She responded, "I remember those 65-minute discussions! Specifically the one on stereotypes. Perhaps the article did tweak your subconscious mind? I wonder what you call cross-lexical priming that's not cross-lexical." This, by the way, is why I have always loved talking with this student about anything and everything.
In one of my online professional groups, a teacher shared a link to this Daniel Pink video about answering the question, "What's your sentence?" and invited us to answer. My own contribution was "empowering students to find and use their voices respectfully." I hope and trust that, with that as a foundation, the methods I use in school enable my students to see both the purpose of school and their own place in it. And I will be able to echo Cossondra George, who also teaches middle school in Michigan, when she writes, "But all in all, when the last chair is upside down on the tables, the last grade recorded, I realize I still have the best job in the world. And for that, I am thankful...."
- Bill Ivey, Stoneleigh-Burnham Middle School Dean
Written by Bill Ivey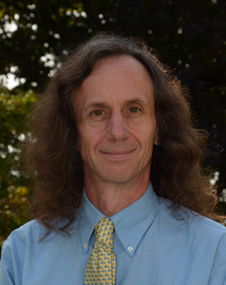 A dedicated member of the faculty, Bill Ivey is the Middle School Dean at Stoneleigh-Burnham School. He teaches Humanities 7 and the Middle and Upper School Rock Bands. Bill is the advisor for MOCA, the middle school student government, and he coordinates and participates in the middle school service program. Among his many hats, Bill also coordinates social media for Stoneleigh-Burnham School.