"You're dripping." I looked down to see a few drops of coffee on my shorts, not a complete surprise since I had to take a few sips off the drip guard of my Joe Bean's coffee cup when I picked it up. Before I could act, my son took the cup from me, gently wiped my hand off, wiped down the cup as well, and handed it back to me. I thanked him, and we resumed our conversation as we continued heading north to Charlottesville where my son was moving in as a first year student at the University of Virginia.
Moving in was quick and smooth - after three years of boarding school, we have this down to a science, and the friendly student greeters waiting to help bring stuff upstairs, the multiple chalked welcomes, and the welcome banner hanging from the dorm made for a warm atmosphere. Once he was moved in, my wife and I let him set the rhythm for the rest of day, including when we would leave, and we moved unhurriedly from lunch at Bodo's Bagels to picking up a few items nearby to checking out the university bookstore to the parking lot near his dorm. There, we said our goodbyes which, while certainly tinged with wistfulness, showed the confidence we all had in my son's readiness for college and in the closeness of our relationship.
There were certainly contrasts with the day we first moved my son into a dorm room as a high school sophomore. While my wife and I were determinedly cheerful, and my son simply determined, there was an unquestionable undercurrent of nervousness. We were confident in our decision for him to attend Andover, and confident that we would be able to work through the inevitable bumps along the way. But we didn't yet know the exact routines we would find and exactly what help and support would be needed. Of course, college brings new routines, and just as our son had been growing in independence through his last three years of high school, so too college would bring increasing independence. But we now have a track record of handling those gradual, almost imperceptible shifts, and we still have a strong and deep love that we know we can count on.
The next day, I returned to Charlottesville to hear President Sullivan's talk with new parents. After acknowledging the standing ovation that welcomed her, she focused on the relationship between parents and their children at this time of transition. How the summer might have seen a new testiness, due in all probability to separation anxiety. How this is a time for parents to support but back off and let their kids come into their own. How their views will continue to evolve, both away from and back towards our own as they continue to grow into themselves. How our children will stumble, and how part of our job is to find the courage to let them learn from their own mistakes. What to tell them to support them in making good choices. Thinking of how many parents were going through this same transition, I found myself wondering what the experience was like for parents of Stoneleigh-Burnham's Class of 2012, many of whom I've known for six years and who have always brought smiles to my face. Myself, I just felt lucky. Rather than pushing us away, if anything, my son seemed to be making a special effort this summer to spend time with us. Time and time again, whatever we were doing and whomever we were with, my son showed kindness, strength, intelligence, empathy, humour, and thoughtfulness. It was one of the best summers I've ever had, and I am so grateful for the time we had together and for what he brings to my life. We met up for another couple of hours after the talk, and I took him to C'ville Coffee for a sandwich and then to the university store to get his last few books, eventually dropping off a bag of various items he had requested the night before.
Driving home, I pulled up the "Charlottesville 8-25" playlist I had put together especially for this trip. From "Love is Strange" that took me back to when he played Buddy Holly in an elementary school history fair to "Give Your Heart a Break," the latest "best song ever" he had shared with me, each selection brought back memories of our time together. I had hesitated over only one song, "The Best Day" by Taylor Swift. A mix of reminiscence and thanks expressed to her mother, accompanied by home movies of Ms. Swift growing up in the video version, the song had brought me to tears the first time I had heard/seen it. Indeed, when it played on the drive north to Charlottesville, my eyes did get misty. But on this trip, I found myself smiling quietly when the song came back up. My son's warm hug at the end of the afternoon and the confident set to his shoulders as he walked back to his dorm to meet up with his roommate and suitemates to go to dinner had told me all I needed to know. His childhood was a gift and a joy, but there are unquestionably many more best days to come.
- Bill Ivey, Stoneleigh-Burnham Middle School Dean
Written by Bill Ivey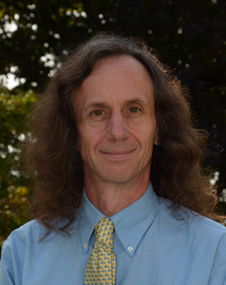 A dedicated member of the faculty, Bill Ivey is the Middle School Dean at Stoneleigh-Burnham School. He teaches Humanities 7 and the Middle and Upper School Rock Bands. Bill is the advisor for MOCA, the middle school student government, and he coordinates and participates in the middle school service program. Among his many hats, Bill also coordinates social media for Stoneleigh-Burnham School.