The middle school recently celebrated Founders' Day, a tradition initiated (logically enough) by the 10 founding students. Seven years ago this month, they asked if future middle school students could have a special day off just for the middle school, to have fun and feel special and to remember the Founders. Since then, traditions have built up and although MOCA (middle school student government) technically plans the day from scratch each year, the schedule generally comes down to breakfast and a movie, tie-dying t-shirts, a barbeque and an afternoon of fun and games. Each year puts their own stamp on those traditions, but the general outline stays pretty much the same.
This year, the students asked if they could invite the Seniors who were former middle school students to join them for Founders' Day. We agreed to ask them to join us for lunch, and they joyfully accepted. So it was that I left the Garden Cinema early to zip back to school and ensure the barbeque was lit and food was ready to go. The six-year Seniors arrived at Bonnie's House about the same time as I did with these huge smiles on their faces, and shortly later they were enthusiastically playing softball down on the diamond despite having neither bat nor ball.
Before too long, the first wave of middle schoolers also arrived, with Hank helping out at the grill while Andrea returned with the WAV to bring back another couple of groups of students as Ellen, Karen, and Tony helped keep track of everyone. It takes a while to feed four dozen students and their teachers, and as some students patiently waited for burgers (beef or veggie) to come off the grill, others who had already finished formed an impromptu band in Bonnie's House, ran around on the field, posed for pictures with six-year Senior Big Sisters, and generally found ways to make their own fun.
Founders' Day this year followed close on the heels of another day off, the all-school celebration of spring and the Earth that has come to be called Spearth Day. As that is the day when yearbooks get passed out, the realization that the end is coming all too fast settles in uncomfortably. For all we say time flies, the fact is there is a kind of timelessness to a school year and it seems, for better and for worse depending on the day (mostly for better), as though it will last forever. But of course it doesn't, and signatures captured in yearbooks - and drawn in Sharpie on Founders' Day t-shirts - are in a way an attempt to capture and freeze time itself.
This year, the middle schoolers are somewhat more jittery than usual about the approaching summer vacation. All of the kids - this year's 7th graders, the returning 8th graders, and new 8th graders have forged deep and lasting friendships, and the idea of giving up 24/7 contact can be really scary. One current 8th grader periodically looks at me with achingly haunted eyes and says she does. not. want. vacation. to. start.
I'm no different, really. As I was exercising this evening, I suddenly stopped in the middle of a jumping jack and ran upstairs to pull out a ten-year-old CD, recorded by the upper school rock band then known as PW Rock. I alternated between prepping and listening as the voices of Mary Dooley, Nancy Ko, and Katie McClary filled my living room. And then my eyes filled as they reached the chorus of Jewel Kilcher's beautiful song, "What's Simple Is True":

The more I live
The more I know
What's simple is true
I love you
Of course, these kids do love each other, and we love them as well. Rituals between now and the end of the year will help give expression to that love as well as providing plenty of opportunities to kick back and have fun. And of course, students are still actively involved in learning, with greater insight and sophistication than in the fall but no less energy and passion. Still, 4:00 p.m. on the afternoon of June 8 will inevitably come. The campus will fall silent. And as I pick up the last few programs from the 8th Grade Moving Up Ceremony, I will start the process of moving forward, reviewing the year with the team and examining what we can learn from it, planning for next year and getting summer mailings ready to go. But first, I will read every name on the program one more time. I will look over to the corner where my Humanities 7 students started every class. I will pause and blow my nose and stare out into space. Then, and only then, I will turn and walk down the stairs and out the building.
Written by Bill Ivey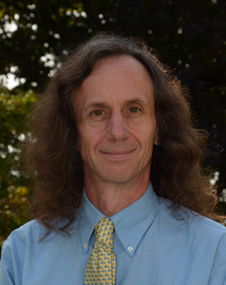 A dedicated member of the faculty, Bill Ivey is the Middle School Dean at Stoneleigh-Burnham School. He teaches Humanities 7 and the Middle and Upper School Rock Bands. Bill is the advisor for MOCA, the middle school student government, and he coordinates and participates in the middle school service program. Among his many hats, Bill also coordinates social media for Stoneleigh-Burnham School.