Family Weekend this year was inspiring in many ways. Developing student voice is a fundamentally important aspect of the core mission of our school, and there was evidence of that everywhere you looked. My Humanities 7 students took turns standing up and reading their poetry to probably the largest assembled group of parents and family members seen in any classroom over the weekend, perhaps a little softly on the first poem, but always more loudly and clearly on all the rest once the warm supportive applause of their peers and families washed over them. Each poem was absolutely unique to that student and yet, taken as a whole, they revealed truths about who the class is as a whole and for that matter what it is like to be a 7th grader in today's world.
My French 2 class had asked to do "something fun" and so they played a game of Family Feud to practice the vocabulary in their newest unit. My Life Skills class had asked if they could cook for their families, and so they made crêpes. My Rock Band classes, well, rocked at the performing arts presentation. And my advisees...my advisees! We do student-led conferences in the middle school, and each conference was unique to that child. I saw courage, I saw honesty, I saw incredible self-awareness, I saw complex and insightful thinking, I saw a willingness to acknowledge and face sometimes painful challenges and I saw pride. And of course, I also saw the love parents feel for their children as they search for, find, and develop who they are. Knowing when to let go and when to support our children as they grow up is one of the toughest jobs in parenting, and for better or for worse, student-led conferences provide many opportunities to practice balancing those twin methods of expressing parental love.
My son, now a high school senior, was recently invited to a formal dance at my wife's school. As it happened, this was for a weekend when she had to be off campus, which meant he would be down there on his own. With a brand new driver's license. It was one of those crucible moments that tests your faith in your child's judgment. We decided - and it was actually an easy decision - to trust him, and he had such an enjoyable evening with his date and other friends he made down through the years that he decided to attend his own school's prom after all. We still share an iTunes account; yesterday, iCloud delivered three apps for buying flowers to my phone.
My own prom experience fit virtually every stereotype of more innocent times (three friends and I piled into an old VW Beetle, the girls wearing dresses they had sewn on their own, and I danced the night away in my date's arms before dropping her off by midnight), and my son's experiences, while different than mine of course, also seem to belong to a bygone era. For many, however, proms have become an elaborate evening of excess, sometimes costing over $2,000 per couple.
Nancy Flanagan recently wrote, in "Prom Queens and Ed Reform," about how the changing nature of proms through the years reflects changing values of our society. Historically, she notes, education has been about building democratic equality, training for economic utility, and enabling social mobility. The first two goals serve the public good, while the third is more of a private good. Social mobility and credentialing, she argues, have become prioritized in order to preserve advantage for those who already have it. Prom, with its excessive costs - and its occasional and despicable exclusion of people of specific races, sexualities, and/or gender - reflects this preservation of privilege.
In our middle school parent meeting, one father pointed out that our mission statement includes the phrase "... confident that their voices will be heard." He felt that society is not currently open to hearing girls' and women's voices, and wondered how we could work to meet that aspect of our mission. I spoke about the need to honor student voices even and especially when they are expressing uncomfortable truths, to build up a sense of expectation that they deserve to and will be taken seriously. If a girls school doesn't honor girls' voices, who will? I also talked about how I had spent two years coming to terms with the word "will" given the realities of today's society and had decided the only way to truly honor the mission of our school as written was not just to work within the school in support of our students but also to work out in the world to fight gender-based prejudice and build a society that will genuinely honor all voices - in essence, to work for democratic equality. The room was quiet, but all around, heads were quietly and slowly nodding.
Working for social justice, I sometimes feel like I'm on "The Road Not Taken." And then there are moments like this and I renew my hope. Family Weekend this year was inspiring indeed.
Written by Bill Ivey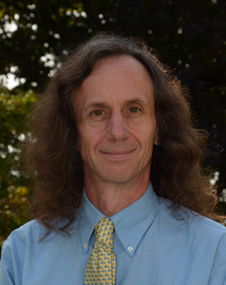 A dedicated member of the faculty, Bill Ivey is the Middle School Dean at Stoneleigh-Burnham School. He teaches Humanities 7 and the Middle and Upper School Rock Bands. Bill is the advisor for MOCA, the middle school student government, and he coordinates and participates in the middle school service program. Among his many hats, Bill also coordinates social media for Stoneleigh-Burnham School.