On the day our school was observing the Day of Silence in support of LBGT people, I happened to be away at a conference. I had thought of the perfect lesson plan for Humanities - the kids would listen to 4'33" by John Cage. For those who may not know it, this is the composition wherein the performer makes absolutely no sound with her or his instrument. Silence, as it were - only not exactly, because listeners still experience whatever sounds may happen to exist in the performance space. The name comes from the total length of the piece.
I found a Death Metal performance of the piece that I really wanted to use, especially because of the humorous introduction the drummer gave, but unfortunately he took it a little fast and the piece only took 2'40". So I settled on a ukulele performance. Tod (our IT person) had agreed to cover the class, so I emailed him and the kids the link, and asked each student to email me a poem in reaction once the piece had concluded.
The final general session of the conference (which was, overall, excellent) was on Workman's Comp and oriented only to Business Managers, so I skipped out, found a couch, and checked in with my students. Most of their poems echoed this theme:
4 minutes.
37 seconds.
All wasted.
No movement.
No sound
What is the point? (...)
One student was definitely on to something:
(...) But this might be more than lack of music
It might be silence
You do not see his face
You do not hear him play
You do not know why it was like that
You might not even care
But to him it could have meant something to him (...)
And these students caused me to gasp out loud:
THE UKULELE MAN
he plays
his favorite melody
his fingers know
every inch of the string and the songs
after years of practice
he is a master
and brave enough to show it
to the world
we listen
but we hear nothing
there is no sweet tune that fills our ears
so we shrug
"oh well, it isn't important"
but to him,
to the ukulele man,
it is the most important thing
and he hears the music
Waiting
The power of silence
More than just any noise
Overpowering
Blanketing everything until it sounds like a
crisp sheet of paper
Never written on
Never erased
Silence
Only on the perfect moments
Peeking from behind the banging and clanging
of whatever is called music
Silence
Strong, hard
Quiet
Silence
I suspect there is enough there that, had I been present to help facilitate a discussion (and had it not been the Day of Silence!), they would have come to some really interesting conclusions in putting their ideas together and building on them. However, given that I couldn't be there, the next best thing was to email them as soon as possible. I told them that if they were curious, they should look up the composer John Cage. I noted that 4'33" is actually one of Cage's most famous compositions, and let them know that he once did a workshop at Middlebury with music majors during my sophomore year and the next day I would tell them all about it and what I learned. And I wrote a poem back to them:
Lost Opportunity. Or not.
Sound surrounds us
Always
And there is music around us always
If
You listen
Deeply.
Focus on one voice
And you miss the chorus.
Silence is not for everyone
But
For some
Silence never is.
Written by Bill Ivey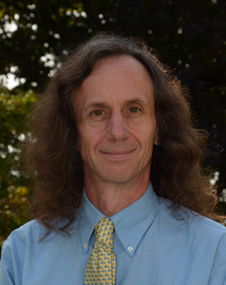 A dedicated member of the faculty, Bill Ivey is the Middle School Dean at Stoneleigh-Burnham School. He teaches Humanities 7 and the Middle and Upper School Rock Bands. Bill is the advisor for MOCA, the middle school student government, and he coordinates and participates in the middle school service program. Among his many hats, Bill also coordinates social media for Stoneleigh-Burnham School.