"And finding each other, then looking after each other, is well worth doing." – Bud Hunt
Even with 140 characters or less, you can tell on Twitter when people have been moved. Sunday, March 4 was such a moment as teacher after teacher retweeted Bud Hunt's extraordinary blog, "On Love and Infrastructure," often adding short comments such as @AndreaZellner's "<3 this One to favorite and return to." Mr. Hunt closes with five fundamentally important questions: "So how do you build love and care into your systems and infrastructures and learning environments and experiences? How are you doing so in a way that doesn't over simplify the complex backgrounds of the people and communities you're learning from and with? How are you looking for ways to increase the love and care in your systems? What are you loving in front of your students and colleagues? What would they say gets loved in your spaces?"
These questions go so much deeper than simply "What do you love?" It's communicating love, fostering love, spreading love, ensuring love – not just between you and those around you but between others in your sphere of influence, along of course with a love of learning. I think back to an early year in the middle school when parents, asked to define what goals they had for their daughters, listed "happiness" as the #1 goal. Try and achieve that without love. It simply can't be done.
I think one way to build love in your systems, learning environments, and experiences is simply to keep it ever in the forefront of your mind. Those young people sitting on the floor around me? While I'm with them, the rest of the world simply ceases to exist. For those 50-145 minutes, nothing in the world is more important than helping them create a context where they can be themselves, saying what's on their mind, listening to others, learning with and from each other not just about whatever we are studying but also about each individual person in our community, including ourselves. After all, Humanities, I tell my students, is at its most fundamental about what it means to be Human. What more important curriculum could there be?
Images settle in my brain. A student's proud parents hovering in my mind as I watch their daughter's hand shoot up in the air with hesitation or reservation. One of last year's students watching me approach and mock-sighing, "You're going to ask me a question, aren't you?" One of this year's students reminding me, "We're your favorite 2011-2012 Humanities 7 class, right?!" (note – as they well know, they are the only one. It's an ongoing joke I have with them.) A drawing, with text, on the white board by another student recounting "A Philosophical Discussion by (some of) the great minds of Stoneleigh." Me trying to figure out how often to allow myself to say "I love you all" so it becomes a given and yet continues to have impact. Several students in MOCA making announcements asking for help keeping corridor spaces clean, for older students to give as well as demand respect, for quiet on the corridor as their RA's try to study for finals. "It all comes down to respect," I said on that occasion, "which, being human, everyone simply deserves and everyone must give." Behind that respect, of course, is love.
Building love into your infrastructure is a much more difficult proposition. Certainly, we build love into our schedule – we are on our 9th schedule in eight years precisely because we work hard to be aware of how the schedule supports students and what additional needs they might have. Each year, we think in particular about what could strengthen our advisory program for subsequent years. Our community service program is certainly a chance to give and receive love, whether working at the after-school program, the animal shelter, or the nursing home. Could there be more? I'm sure there could. But it's at least a start.
So at Stoneleigh-Burnham, as I reflect on what I've just written, I do think we are constantly looking for ways to increase the love and care in our systems. We may or may not phrase it that way, and output can certainly distract us on occasion, but at root we are acutely aware that our school is built and relies on relationships. When former students look around at the physical changes of the school and tell me how different it is, I let them know that were they to spend enough time on campus, they would realize that it still feels the same, even if it might not look the same. You can see the realization wash through them as they start to smile.
"All we can ask," I often tell my colleagues and my students, "is your best." That which is done with genuine love is, far more often than not, your best. Our learning. Our friendships. Our school relationships. And reaching out beyond our school. It's about voice and being your own best self.
Ultimately, it's about happiness.
Written by Bill Ivey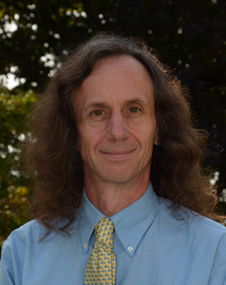 A dedicated member of the faculty, Bill Ivey is the Middle School Dean at Stoneleigh-Burnham School. He teaches Humanities 7 and the Middle and Upper School Rock Bands. Bill is the advisor for MOCA, the middle school student government, and he coordinates and participates in the middle school service program. Among his many hats, Bill also coordinates social media for Stoneleigh-Burnham School.