For a little while, it seemed as though the freak Halloween snowstorm was going to be the extent of winter in New England this year, but as January is progressing, winter seems to be asserting itself more and more strongly. Last Monday was a cold one even though only a few inches of snow had fallen overnight, but somehow it served to energize the middle schoolers. And so it was that I was surrounded at the beginning of advisory by swarms of students buzzing in random directions, all asking me if they could go outside. My advisory group, in fact, had asked just the previous Friday if we could have a middle school snowball fight some day, so after checking in quickly with the other advisors who were nearby, I told all our advisees to get their coats.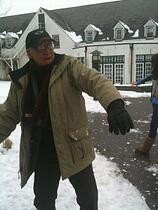 After sending Hank's advisees off to ask permission to join the others and clearing the middle school of the one or two kids who were uncertain about the whole idea, I wrapped my scarf around my neck, zipped up my coat, and ran outside to see what was happening.Kids had continued to run in random directions, except now they were also leaning over long enough to scoop up some snow, fashion a quick snowball, and launch it at whoever happened to be in the vicinity. Hank, too, was periodically lobbing snowballs at semi-random kids, and I threw myself into the fray, dodging snowballs with mixed success and retaliating enthusiastically, if with limited accuracy.
During one of the interludes when I was warming up my hands, one of the students approached with an adorable eight-inch-high snow person; soon after, another student came up to the teachers to show us a little snow mouse she had made. Both posed happily for pictures.
As the end of advisory neared, a large group of students had gone down on the field and congregated on a jump. I ran down toward them to start the process of getting them to come inside and go to class, and soon realized I didn't have to say a word as they all came after me throwing a frightening number of snowballs in my general direction. Everyone went inside in good spirits, ready for Humanities, ESL, or Math/Science depending on what they had during AB period.
While we were all taking a break, one of my colleagues remarked that she had been reading (as had I) about the fact that many kids today don't really know how to engage in unstructured play. Beyond learning to entertain themselves, children also profit from unstructured play by learning how to make and agree on rules. "Our kids appear to have no problem with that," someone said, and as we watched one group start to make a snow person, another work on a snow sculpture that would evolve into an owl, a third divide into two lines of students readying for battle, and a fourth continue to throw snowballs randomly, no one could have argued with her.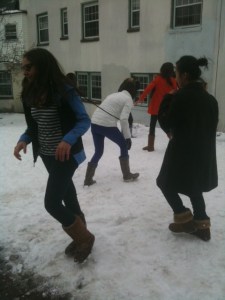 That night, I was corresponding with one of the seventh graders regarding some questions she had about Humanities. In one email, she mentioned that her mom wanted to thank me for throwing a snowball at her. That note will always be a source of pride, and a reminder that being an effective teacher may at times require an unexpectedly wide and varied skillset. Though he never worked snowball throwing into the curriculum of my M.A.T. program, I am quite sure my advisor (a former middle school teacher himself) would also be proud of me.
Written by Bill Ivey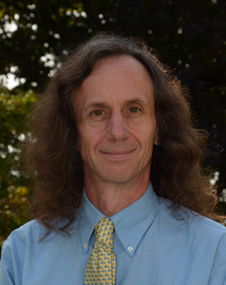 A dedicated member of the faculty, Bill Ivey is the Middle School Dean at Stoneleigh-Burnham School. He teaches Humanities 7 and the Middle and Upper School Rock Bands. Bill is the advisor for MOCA, the middle school student government, and he coordinates and participates in the middle school service program. Among his many hats, Bill also coordinates social media for Stoneleigh-Burnham School.