As I do every Monday, I walked into my Humanities 7 class and asked, "Who wants to read their independent writing today?" Several people did, but a greater number said they weren't sure and asked for me to write their name on the white board in parentheses, our special code for "I'll decide at the last minute." The last few weeks, there had been increasing numbers of parentheses, a trend I had decided needed to stop in its tracks.
So while the students who were reading were starting up their laptops and pulling up the documents, I decided to whip open my iPad and search online for Taylor Mali's poem, "Totally like whatever, you know?" The poem begins, "In case you hadn't noticed / it has somehow become uncool / to sound like you know what you're talking about?" and ends with these lines: "Because contrary to the bumper sticker, / it is not enough these days to simply QUESTION AUTHORITY. / You have to speak with it, too." We had a great discussion about the poem, and they totally like, you know… got it that I am working to teach them to "speak with conviction." Our discussion ended with the following dialogue:
Me: I'm also teaching you to question authority.
Them: How?
Me: Well, are you comfortable questioning me?
Them: (genuine laughter)
Them: Why?
Me: Because sometimes authority needs to be questioned.
Them: (thoughtful silence)
Coincidence or not, two seventh graders came to me that day to talk over some concerns they had about middle school representation on Student Council given our ever-increasing numbers. They offered several suggestions as to what changes might be made to the system next year, and while they were genuinely open-minded and listened to my thoughts in a true spirit of dialogue, they did not simply bend to my way of thinking. They did indeed speak with conviction in a spirit true to their own best selves.
Meanwhile, the Upper School Rock Band has been working on "Know Your Enemy" by Green Day, and frankly, I need never have worried about how they would sound screaming "Gimme gimme revolution!" toward the end. Indeed, from the very first snare hit that begins the piece to the final powerful "Yeah!!!" held over the sustained distortion of two screaming guitars, the heart-rattling thunk of the bass, and the combined crash-bang of drums and piano, they are thoroughly convincing that "silence is the enemy / against your urgency / So rally up the demons of your soul!"
Martin Luther King spoke about "the fierce urgency of now," and of course two groups that sense that urgency most strongly are oppressed people and adolescents. I would add that people who work with and care about both groups often share that feeling. Indeed, I find myself feeling it ever more strongly these days (as regular readers of this blog may have guessed!).
John Steinbeck captured it well in Travels With Charley, written in 1960 (three years before Martin Luther King's famous "I Have a Dream" speech) and published in 1962, which describes a conversation with a young, Black student who lived near New Orleans during a time of horrific protests against school integration. "Finally," writes Steinbeck, "we spoke of Martin Luther King and his teaching of passive but unrelenting resistance. ' It's too slow,' he said. "It will take too long'" Steinbeck responded, "'There's improvement, there's constant improvement. Gandhi proved it's the only weapon that can win against violence.' 'I know all that. I've studied it. The gains are drops of water and time is passing. I want it faster, I want action – action now.'" Later, Steinbeck describes the final scene of their conversation as the young student said, "'I'm ashamed. It's just selfishness. But I want to see it – me – not dead. Here! Me! I want to see it – soon.' And then he swung around and wiped his eyes with his hand and he walked quickly away."
Unsurprisingly, I have had more conversations than I can count with students here who want to make this world a better place. Six-year seniors might be surprised – or not! – how many of our conversations I still remember. And it only adds to my own feeling that for all the drops of water I am working to contribute to bettering our world, It. Is. Not. Enough. Many of our students will be voting in the next presidential election, and all of them in the one after that. It is my hope, conviction, and comfort that, as their generation grows up, they'll continue to hold true to their vision of how the world ought to be and work to make that vision come true. Not in some vague "whenever" time. In the now.
That is my own dream today.
Written by Bill Ivey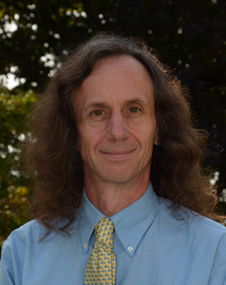 A dedicated member of the faculty, Bill Ivey is the Middle School Dean at Stoneleigh-Burnham School. He teaches Humanities 7 and the Middle and Upper School Rock Bands. Bill is the advisor for MOCA, the middle school student government, and he coordinates and participates in the middle school service program. Among his many hats, Bill also coordinates social media for Stoneleigh-Burnham School.