It was not easy to tear ourselves away from the games. The varsity soccer team was playing for the league championship in a closely-contested tie game (we would eventually lose in a shootout), and the sun was shining warmly down on the spectators cheering them on. Meanwhile, the varsity volleyball team's last match of the season was also close (it would end in a 2-3 loss). But once we got to my car, after having been forced to take last week off from service at the animal shelter due to power outages, it felt good to be on the road again.
At the shelter, Lisa smiled at us from behind the front desk and said it was really good that we came today because some of the morning volunteers had not been able to make it. Two adult volunteers had already started in on some of the work, and so it fell to us to clean four cat cages and ready them for their next residents, plus set up two additional cages that had already been scrubbed clean and disinfected. One of the students, in her second year of volunteering, had her cage scrubbed and newspaper already laid on the floor of one of the clean cages before I even had the chance to see how she was doing. The two other students, both first-years, needed little guidance themselves and also worked at a quick pace. As I wandered back and forth to touch base with them all, I was startled to walk in the front room and see one of the girls smiling out at me from within a cage - I imagine in order to gain easier access to the back wall and ceiling.
Cat cages, once scrubbed, need to sit for ten minutes to let the disinfectant do its work, and as the other volunteers had gotten us all caught up on dishes and laundry, this was the perfect chance for kitten snuggling. The girls know by now that they have to leave adult cats in their cages when socializing with them, but that it is okay to take out kittens. Luckily, there were three, each of them in a quiet and snuggly mood, and it was hard to tell who was happier, the kittens or the girls.
Ten minutes later, we got the cages all set and checked to see if Buddy (a one-year-old yellow Lab) needed time in the play space. Two days previously, as I was walking him to the play space, two of the girls had taken off running with excitement, and when he leapt after them I was momentarily worried he was going to pull my arm right off. So when this group asked if they could walk him out, I hesitated for a moment and then, remembering how well-behaved he had been when we were just walking together, I said they could if we all promised to walk the whole way. Once in the play space, with his leash off, he did his best to pursue a wide variety of flying objects that filled the air within moments of our arrival. For a moment, it seemed we would need skilled air traffic controllers, and indeed there was at least one close call. There were also two home runs, both of which were cheerfully pursued by the girl who had thrown them.
We returned Buddy to his cage and resisted giving him treats because we knew his stomach was delicate. I rinsed off some dishes that had been soaking in disinfectant while the girls went to say good-bye to the kittens, we signed out, and then after a pass by the candy bowl at the front desk, we hit the road.
It's hard to put a finger on what made the day feel so special. On the face of it, it was unremarkable – there wasn't even all that much work to do. Perhaps it was the sense of confidence the girls showed, their belief that the work was important and they knew how to do it well. Perhaps it was the cheerfulness they brought to every task. Perhaps it was how well they worked together, or how smoothly everything went. And perhaps it was their continual engagement in the moment, just as deep when scrubbing cages as when snuggling kittens.
Earlier today, Ellen, our school counselor, and I were talking about how fast the trimester has flown by. We are well aware that the passage of time feels very different to our students, both because we remember our own childhoods and because the girls remind us regularly. "Is it because a year is a much smaller percentage of our lives than theirs?" we wondered, but that didn't feel right. "Maybe," Ellen said as her eyebrows lifted slightly and the corners of her mouth turned up, "it's because they live so fully in the present." "Maybe it is!" I responded. "And if so, maybe there's a lesson for us."
Maybe.
Written by Bill Ivey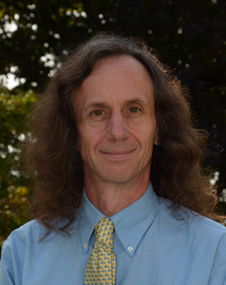 A dedicated member of the faculty, Bill Ivey is the Middle School Dean at Stoneleigh-Burnham School. He teaches Humanities 7 and the Middle and Upper School Rock Bands. Bill is the advisor for MOCA, the middle school student government, and he coordinates and participates in the middle school service program. Among his many hats, Bill also coordinates social media for Stoneleigh-Burnham School.