When I was teaching English at the Université de Bordeaux, my parents sent me a collection of cassettes from the radio program "A Prairie Home Companion" for my birthday. It was a touch of home I very much appreciated, and I even turned one monologue about Thanksgiving into a reading and culture lesson for one of my classes. One of the "Winter" pieces was entitled "Storm Home," and detailed how when Garrison Keillor was growing up in Minnesota, the kids who didn't live in town were assigned a Storm Home where they would stay if the weather came up while they were in school and it was unsafe to go back to their own homes. Mr.Keillor built up a beautiful, somewhat wistful image in his mind of what his storm family might be like, how they would treat him ("Why, it's our storm child!"), and why they would be happy to take in a child they had never met.
Sunday morning, I acquired my own storm home. While shoveling out my driveway, I saw my neighbor across the street approaching, as she often does if we are both out at the same time. She asked if I had power (No.) and heat (Also no.) and then told me she had fired up her wood stove and closed off her living room and I was welcome any time (and throughout the winter as well). I thanked her and warned her that I am often home pretty late from school (which she probably already knew, come to think of it) and asked how late at night I could safely knock. "Oh, even two in the morning is fine." she said. "Just try calling first in case I don't hear the knocking."
Saturday, my son's cross-country team had a meet against Deerfield Academy, and since the goal was to make the races happen while still getting the DA kids back safely, I figured it was safe to drive out as planned. The meet came off well, though it was getting steadily colder and rainier as I ran to my car. Word from friends of mine who have kids on the DA team was that snow was already accumulating in Deerfield. Conditions steadily deteriorated throughout the drive, and became positively nightmarish in Greenfield as I kept my distance behind a fishtailing Mustang. Partway up the Mohawk Trail, I came upon a stopped line of traffic and settled in behind a Honda minivan, texting back and forth with my wife. I was more than a little on edge, wondering how long this would take, whether my car would still be able to manage the slick roads when we finally started moving again, asking myself why I hadn't filled the tank in Orange and whether I should just give up, pull a u-turn and hope I didn't encounter a police car coming the other way.
About an hour after I stopped, I noticed three bundled-up people walking past car after car and hoped for their sakes they would learn something useful up the way. A moment later, I heard several cheery voices yelling "Hi, Bill! Hi, Advisor!" It was two 8th graders and a mom, and after a brief chat they continued on up the line. As they came back, nearly every driver seemed to be calling them over to ask what they had learned, as the kids approached one car while the mom was still talking to another, I couldn't help but think about how they were taking their place in the world, with adults calling on them to help out and trusting them to share what they knew without a care as to their age. And I found it was as if the line of cars had become a community, with the kids and the mom the connecting link.
At times, it's easy to forget that despite all our differences, when there is genuine need, people generally come together and give unconditional aid. People who pull other people out of burning cars, or stop to help change a tire, or bring a neighbor food if a loved one has died, don't usually apply a litmus test before reaching out. My students might be entering a world of increasing inequality and an ever-increasing din of heated and often-unsubstantiated rhetoric, but they are also entering a world where, when the chips are down, we come together. Indeed, they are already part of that world, and helping it stay that way.
I suddenly found I had relaxed, so I reached out to some friends on Facebook to see what they might know of my predicament and continued to pass the time until, over an hour later, we finally started moving, my storm family and me.
Written by Bill Ivey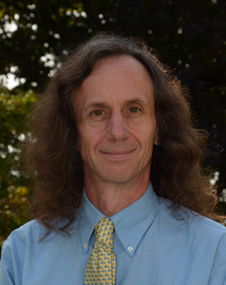 A dedicated member of the faculty, Bill Ivey is the Middle School Dean at Stoneleigh-Burnham School. He teaches Humanities 7 and the Middle and Upper School Rock Bands. Bill is the advisor for MOCA, the middle school student government, and he coordinates and participates in the middle school service program. Among his many hats, Bill also coordinates social media for Stoneleigh-Burnham School.