Dear Alex,
So much time has passed since you posted, and it seems that my thinking is evolving every day - not just in response to the posting itself, but also in response to real-life, face-to-face conversations we've had since then. The time is long past to try to crystallize this thinking into something to share with others - as you said at lunch on Family Weekend, sometimes you just have to sit down, write and see what comes out.
What you are doing with your "Theory of Knowledge" students, helping them make their thinking so intuitively transparent to themselves that they can't help but take charge of their own learning, is impressive. Furthermore, you are doing it in such a way that it infuses the intellectual life of the school, bursting the bubbles inside which it can be too easy to retreat and which serve only to impose artificial divisions. (More on that, perhaps, in my next post!)
That is, of course, pretty much the same thing we have been trying to do in the middle school. One of our primary tools is the student-led conference. This consists of a half-hour presentation by each student to her parents and advisor about not only what she is learning and doing in all aspects of her school life (even community service!), but also what she thinks about her accomplishments and further needs.
Beginning one to two weeks before Family Weekend, we distribute a series of self-reflection sheets to our classes. These require the students to think very specifically about what they have accomplished and what else they need to be focusing on. Through prompts such as, "What are three of your strengths in this course?" or "What did you find to be the hardest part of doing research for your paper?" or "What are two things you're doing to improve your work in this course?," students can access fairly abstract thoughts through concrete thinking about specific actions. I won't pretend there aren't occasional groans when we first start passing the sheets out, and certainly some students do respond better than others. At the same time, it's often rewarding and just plain fun to track an advisee over two years and see how much deeper and more sophisticated their thinking can become. By now, ninth grade teachers know they can count on our middle school graduates to be quite self-aware of how they learn, what they do well and where they need support.
Part of what we teach the students is to be honest with themselves. Giving themselves praise is often the hardest part. As my Humanities 7 students pored over their forms last week, several worried, "I don't want to say what I really think because it will sound like..." and I completed, "bragging?" Their faces relaxed, perhaps because I had made it okay to name the problem, and they agreed. I told them that being honest about what they do well isn't putting anyone else down for their own accomplishments; they thought about it for a moment and said, "Yes, but it's still hard." On the flip side, they sometimes have a hard time thinking about where they need to improve, at least at this early stage of the year. Several were inspired to write that self-reflection itself is what they most need to work on. Fair enough, although I suspect the student who wrote, "self-confidence" had really hit the nail on the head. It's tough to be a girl growing up in our society, feeling pressure both to be perfect and not to be better than anyone else.
Most parents love these conferences. In our first year, one of the Founders' moms told me, "This is so much more useful, and enjoyable, than when you sit alone with the teacher and they tell you everything your daughter is doing wrong." This weekend, one of my advisees absolutely nailed her conference. She spoke with authority and in great detail about what she was doing, where she was going, and how she could know she was going to get there. At the end, thinking about the first 7th grade conference a year ago, her mother teared up from a combination of deep pride in her daughter and the reminder of how fast she is growing up. She got a long, warm hug from her beaming daughter. It was an image I will always remember.
With things like this, we have begun our journey which will lead these girls, five years down the line, into your "Theory of Knowledge" class. They will know so much more then than they do now, about themselves and about the world. Their brains will be more developed, with parts that aren't currently pulling their share of the load having fully kicked into action around the age of 15 or 16. And, just as I knew with absolute certainty five years ago that the six-year Seniors would be an extraordinary group this year, so too can I tell that this crop of 7th graders will be amazing in five years.
But then, they are already. As is true every year!
Sincerely,
Bill
Written by Bill Ivey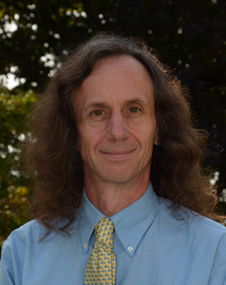 A dedicated member of the faculty, Bill Ivey is the Middle School Dean at Stoneleigh-Burnham School. He teaches Humanities 7 and the Middle and Upper School Rock Bands. Bill is the advisor for MOCA, the middle school student government, and he coordinates and participates in the middle school service program. Among his many hats, Bill also coordinates social media for Stoneleigh-Burnham School.