This morning I dropped my three-year-old daughter off for her first day of preschool. She had been impatiently waiting for this day for months. In the parking lot she grabbed her ladybug lunch bag and whooshed away from me and my husband who trailed along behind her with the baby like her own little entourage. In the classroom, we helped her find her cubby and her nametag, put her Cat in the Hat stuffed animal in her sleep sack for naptime, and then watched her run off with another little girl tugging at her sleeve. I turned to the teacher and asked, "So…what do we do now? Hang out for a while?" She smiled gently and replied, "or…just go. Looks like she's ready to play." That was it, huh? Just go. There were no teary goodbyes, no hysterics, no peeling-of-the-child off the leg of my pants; just a quick hug and we were out the door, past the boy wailing for his mama and the little girl already in the arms of the assistant teacher, getting her back patted while she quietly sniffled into his shirt.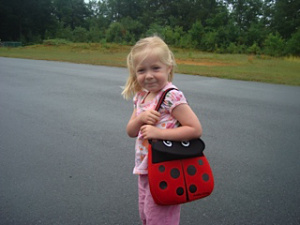 But it wasn't that simple. Outside the classroom we peeked through the glass window and watched Macy settle herself at the craft table. Other parents hovered around us, some looking anxiously through the window, others gripping their child tightly by the hand as they walked into the classroom. I could have stood there all day, just watching, but I knew in my gut that Macy would be fine, and that, as Miss Cindy said, we had to just go. In the parking lot I passed another family snapping pictures of their child in his bright backpack and new sneakers, and a mom visibly crying as she drove away in her minivan. It struck me in that moment what an incredible feat it is to leave your child in the hands of another, and it made me realize how much I have in common with the parents of the students I teach at Stoneleigh-Burnham School.
Now that I have my own children I understand what great trust families give to us when their daughters enter our blue doors for the first time. Whether your child is four miles away or four thousand miles away, three years old or thirteen years old, that kind of trust is the reason you can leave her and walk away with ease. I didn't cry as I drove away from her preschool and off into my own day without her. When my daughter wants something she doesn't just walk, she marches: hunched forward with her elbows out like she's jabbing her way down a crowded city street. This is her own journey, and she's ready for it. I know many of my students come to SBS in this same way; determined and ready, while others need to be taken gently by the hand, reassured as they adjust in their own time. Next week some of both will be sitting in my classroom. As a teacher and an advisor, it's not my job to dictate their journey for them; it's my job to help them navigate it.
I realize that dropping Macy off at preschool today was just the first of many beginnings for her and for me. I know the parents of new SBS students share many of the same feelings as they drive up the oval to drop their daughters off. I know the parents of my seniors share many of the same feelings as they prep themselves for college, and know that I will feel this again and again throughout Macy's life. This week the students of SBS, new and returning, will once again enter the blue doors and fill our hallways and classrooms with laughter and chatter. Some will cry and cling, but we'll be there to guide them and cheer them on, every step of the way. I am so excited for Macy to discover the new world waiting beyond her school doors. Nothing will change how tightly I want to hold on to my daughter, but I will remember Miss Cindy's words as I drop her off each day: Just go. Oh, and parents- I told you I didn't cry when I drove away, but I'll meet you in the parking lot by your minivan if you want. I'll bring the Kleenex.
- Shawn Durrett, English Department Chair
Written by Guest Faculty Bloggers

Occasionally we feature guest contributions from members of our faculty. Their voices provide an exclusive view into the classrooms, halls, lounges, and residence halls that make Stoneleigh-Burnham School such a great place to live, work, and study. To find blogs exclusively from our faculty members, use "The Faculty Perspective" category.