I will confess that it wasn't until I read the third volume of the Harry Potter series that I fell head over heels in love with the books. But it is indeed love, and one that is inextricably tied up with the people in my life. My family was one among countless others that went to midnight book release parties in local bookstores, and we took it in turns to read each of the last four books aloud together. After driving home cradling each new volume, we would stay up until we had read at least one chapter, and would wake up to more new chapters, curled up together in the living room through the subsequent days until we finished the last word , the warm, sunny weather outside in the "real world" notwithstanding. And of course, I have been involved in countless discussions with my students about the books – revisiting plot twists, analyzing characters and their thoughts and feelings, sharing what connects each of us so deeply to the books.
I think I connected so strongly to Harry Potter and the Prisoner of Azkaban for three main reasons. One was undeniably the sheer inventiveness of J.K. Rowling and the riveting plot; I believe about five seconds went by between the moment I finished it and the moment I began to reread it. A second was Harry Potter discovering his godfather, who not only provided a direct connection to his parents but also joined Dumbledore in loving and caring for Harry. Helpless as a reader to serve that role for Harry, but wanting everything to work out for him, I was both touched and relieved at this new development. And the third was watching Harry, Hermione and Ron coming of age, taking bold and firm steps toward adulthood as they ably met the challenge with which Dumbledore had entrusted them. As a middle school teacher, I see this happen every year with my students, admittedly in somewhat less intense, dangerous and dramatic fashion. As a teacher in an all-girls school and someone who felt there was even more to Hermione than we glimpsed in the first two books, I was especially moved to see her own growth and success.
Originally, as I was preparing with mixed excitement and nostalgia to see the final installment of the Harry Potter film series, I was envisioning writing a piece for the school's blog with a dual focus on Hermione and feminism. It seemed the perfect topic for a girls' school. But I found myself encountering far more difficulty than I anticipated. Searching for inspiration, I followed a Twitter link from Ms. Magazine to a blog article, "Will the New Hermione Please Stand Up?" calling for more literary heroes along the lines of Hermione as well as Katniss of "The Hunger Games" series . I readily agreed with the premise, but was still stuck.
Then I discovered an outstanding newspaper article written by Erica Moulton, a sophomore at Mount Holyoke College, entitled "Women of the Wizarding World: Harry Potter and his Feminist Friends." She confronts head on accusations that J.K. Rowling has played into stereotypes of women, affirming in contrast that "We hold these female characters close to our hearts not because they are perfect beacons of feminism, but because they are genuine and believable women." There it was. I had been trying to make Hermione more than she really was, in the process trying to make her more than she needed to be. Without that clarity of vision, nothing I was writing rang true.
The world does not need any of us to be perfect, and certainly does not need us to conform to anyone else's ideal. The world, rather, needs each of us to be perfectly ourselves. That is Hermione's achievement, and that is the mission of our school. As I open up envelopes (one of which had "Hi Bill!" and a smiley face drawn on it) and email and learn my new students' ideas on what book to read in our first unit, peruse parents' thoughts about and dreams for their daughters, and make plans with members of the middle school team, I can see the beginnings of this year's community forming. As we come together, learn together, and love and support each other in both our strengths and our imperfections, we will be well on the way to having met the school's mission. I can only hope Hermione, too, would be proud.
- Bill Ivey, Stoneleigh-Burnham Middle School Dean
Written by Bill Ivey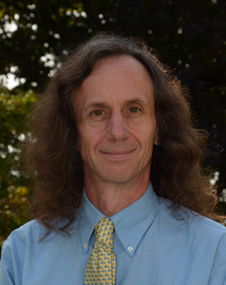 A dedicated member of the faculty, Bill Ivey is the Middle School Dean at Stoneleigh-Burnham School. He teaches Humanities 7 and the Middle and Upper School Rock Bands. Bill is the advisor for MOCA, the middle school student government, and he coordinates and participates in the middle school service program. Among his many hats, Bill also coordinates social media for Stoneleigh-Burnham School.