Way way back in 1987, my second year of the school, we decided to break with tradition and close the year with a musical revue. A teacher who was going to be rejoining us the following year after a brief leave of absence was put in charge of it, and everyone told me to expect greatness from Cyndee Meese and from the kids. She asked me to help out by choosing, arranging, and selecting and rehearsing the performers for three medleys representing women in rock in the 60's, 70's and 80's. After sitting in on auditions, we agreed that Jen C. would be Laura Nyro, Deanie A. would be Stevie Nicks, and Sabrina P. would be Cyndi Lauper. We put together a faculty band to accompany the students and began preparing for the show. Cyndee's impact was felt immediately in two ways. One, that the kids were indeed headed for greatness and beyond Jen's tear-inducing cry of "Eli's a-comin'. Woah, you better hide your heart," Deanie's gorgeous lilt as she sang "Shattered with words impossible to follow," and Sabrina's gutsy and brassy affirmation that "Girls just wanna have fun," there were many memorable performances. Cyndee's second impact was more literal; as I was accompanying another song on piano, I was having trouble getting just the right sound, so she slid onto the bench to show me what she wanted, bumping me in the process so I slid right off the end onto the floor.
Cyndee's faith in the students' and my ability to achieve high standards and her determination that we would in fact do so would animate countless shows and performances we would do through the years. The first time we did "Little Shop of Horrors," now my all-time favourite musical, was truly magical. Every night before rehearsal, under guise of "warming up" or "just making sure we get it right," the lead actors would sing through "Somewhere That's Green" and "Suddenly Seymour" with the band. True, another music teacher at another school had thrown down the gauntlet by stating flatly you could not make the show sound good with a group consisting of three keyboardists and a drummer. "Oh, we can't, can we?" said Janey S., the band leader. Indeed on opening night, that teacher came up to us and conceded we had, in fact, pulled it off. But at heart, we just loved the songs and wanted to hear them as much as we could. What more could a musician ask for?
By then, Cyndee and I had fallen into a pattern of hanging out after rehearsals and talking into the night, a pattern that would repeat for the many years we collaborated on shows and that would deepen our friendship and our respect for each other. This pattern would also repeat as Cyndee established a tradition of Senior Recitals and I would sit in on various songs when needed. Her renting me a cherry-red Yamaha electric guitar for Gigi K.'s recital led directly to my deciding I needed one of those and getting my black Strat. That Strat, whether borrowed by generations of student guitarists beginning with Lisa B. '99 and continuing to Nhyira A. '16 or played by me, has been in countless shows itself.
We were fortunate, when founding the middle school, that Cyndee knew, loved, and understood young adolescents, and she got the vocal music program off to a strong start, single-handedly building it to eventually include not just the general class for all middle schoolers but also a Select Chorus that was, and is, the equal of many high school groups. When she took over the middle school theatre program, she also took the risk with me of allowing the seventh graders to write and produce original plays every year; this has become a tradition and cornerstone of our program. Teaming up with Ann Sorvino (dance), Greg Snedeker (instrumental music), Kim Mancuso (theatre), and earlier David Killam (instrumental music), we pulled off a series of middle school productions that were jaw-droppingly good. Literally so, judging by Hank Mixsell's reaction to the first show he ever heard.
Stoneleigh-Burnham is all about voice and all about strong women; both as a role model and through her work with the kids, Cyndee has exemplified our mission. I feel privileged to have been able to work with her, especially because it was so much fun it didn't even feel like work. So thank you, Cyndee, and my very best wishes to you.
- Bill Ivey, Stoneleigh-Burnham Middle School Dean
Written by Bill Ivey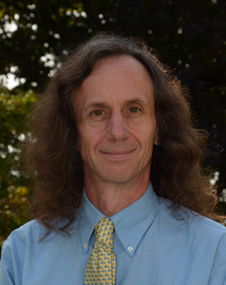 A dedicated member of the faculty, Bill Ivey is the Middle School Dean at Stoneleigh-Burnham School. He teaches Humanities 7 and the Middle and Upper School Rock Bands. Bill is the advisor for MOCA, the middle school student government, and he coordinates and participates in the middle school service program. Among his many hats, Bill also coordinates social media for Stoneleigh-Burnham School.