"Is it just me, or was that an especially emotional Moving Up Ceremony this morning?" I looked at my colleague Pete, who was himself moving on, to a school in New Jersey. I knew what he meant. Our 8th Grade Moving Up Ceremony is one of the most beautiful and heartfelt of the many rites and routines the school has developed to aid all of us in transitioning out of the year. The ceremony centers on tributes read to each 8th grader by her advisor, and they are all unique to each individual student, beautifully written and delivered as the soon-to-be high schooler stands beaming next to her advisor. Only this year, more students than ever before began to cry while they were up there. My voice usually catches a few times as I am reading, but I nearly lost it completely when I looked over and noticed twin streams trickling down one of my advisee's cheeks.
Part of it was the tremendous growth these kids had shown while they were here. Part of it was the close relationships so unabashedly visible to all. Part of it was backstories about particular kids who had been or were still facing a tough road one way or another. But those elements are always there. No, I strongly suspect much of it was that four dearly beloved members of the middle school team were moving on, three of whom had been with us for five years (and who were in fact primarily responsible for my deciding to change the subject header for our minutes from "MS Faculty Meeting..." to "MS Team Meeting..."). Some of the kids had asked to have a chance to say goodbyes as part of the ceremony, and as they choked up one by one, taking turns relieving each other until everyone had said what she needed to, I can't believe there were many dry eyes in the room.
Every year at this time, as I take stock of the year and look at my students' learning, I also take stock of what I have learned. That we really need to cut back Humanities 7 to six units in order to be able to go as deep as the kids want to. That we really need three advisory periods per week. That the Class of 2016 is an extraordinary community of amazing writers and we need to nurture that going forward. That the Class of 2015 is going to have an instant and major impact on our Upper School's music program. And that my toes look horrible with pink nail polish.
That last bit, of course, comes from Pink Toenail Day organized by the faculty and staff in support of breaking free of gender stereotypes and particularly of those of our students who most actively and deliberately broke them. Those students have graduated now and moved on, but just as they felt safe and comfortable to express their inner selves at our school, so too will there be future students who will need and appreciate the same atmosphere of support. Indeed, they may already be out there.
Pink Toenail Day was always about symbolic expression of a support that was already there, and I for one will be able to find other symbolic ways of expressing that support that don't clash with my skin tone. First and foremost, though, the deep down support must be clear and unequivocal, for returning students and faculty and for new students and faculty. We are a team, individual voices rising in community. So we pause, take stock, honor where we've been. We say a heartfelt good-bye, hoping those moving on stay in touch. And we hunch our shoulders, look to the future, and begin the exciting work of creating next year's community.
- Bill Ivey, Stoneleigh-Burnham Middle School Dean
Written by Bill Ivey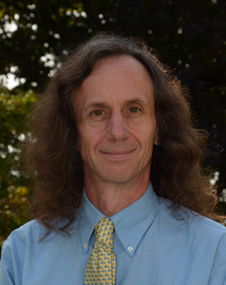 A dedicated member of the faculty, Bill Ivey is the Middle School Dean at Stoneleigh-Burnham School. He teaches Humanities 7 and the Middle and Upper School Rock Bands. Bill is the advisor for MOCA, the middle school student government, and he coordinates and participates in the middle school service program. Among his many hats, Bill also coordinates social media for Stoneleigh-Burnham School.