The signs were there for anyone to see, so on Thursday evening, when I passed a large group of middle schoolers standing out on the oval talking in hushed tones, I was no more suspicious than I already had been - even when several kids called out in falsely hearty voices, "Hi, Bill" and they all laughed. It seemed this would be an April Fools' Day to remember.
So I was more disappointed than surprised when I ran into one of my advisees, a day student, at about 6:20 in the morning; I felt sorry more for her than for myself. Fortunately, despite my presence, she was able to execute a fair number of her plans, taping some coins down to the floor of the stairwell, putting bubble wrap under the toilet seat, and partially blocking off the doorway to the Humanities classroom with masking tape.
[slideshow] When I went to breakfast at 7:00, I discovered exactly one chair at every table. A bit of investigation revealed they were stacked in the TV Room, the legs, rungs, and backs of the chairs forming a beautiful lattice pattern that glowed in the morning light. A few students, the usual earlybirds, had dragged chairs together to one of the tables near the bay window. On my way back up to the middle school, I checked out the door to the Dean of Students office, where post-its highlighting some real and imagined favorite sayings of Mr. Larson covered the door. This effectively hid the fact that everything in his office had been turned upside down. Not just chairs and the computer keyboard, but every piece of artwork, every book - everything.
My ESL class, just two international students with whom I work one on one, passed relatively uneventfully, as did the Upper School French III class in which I subbed. But I was still on my guard. So when a brawl broke out in MOCA (the all-middle-school student government), it wasn't just these huge grins the kids had that tipped me off that kept me from worrying.
This was just the beginning. As I went in to my Humanities class, every student yelled "Beep!" every time I did... something. (I would later learn there were dots placed strategically around the room; when I passed one, they beeped.) Periodically, I would deliberately jump around, leading them in rhythm. At about 11:15, they burst into song, singing "Dynamite" at the tops of their lungs. About ten minutes later, they all dove under the table. I think that was supposed to make me think the ceiling was collapsing.
Then Sally came in, looking somewhat grim. "Girls," she said, "I have something rather serious to tell you. There has been a sprinkler system malfunction in the dorm. I need you to go there and see which of your belongings might be damaged, and help clean up a bit. Bill, could you go with them?" They took off running as Sally went to tell the eighth graders.
April Fool!
I sent the kids straight to lunch, and returned to the middle school where I high-fived Sally. She was a little out of breath because, according to our plan, she and Catherine had hidden all the laptops in the Middle School kitchen and replaced them with an ancient typewriter.
There's a lot more to tell (remember, it was only lunchtime when we pulled the sprinkler-computer prank), but by now, you get the drift. As I was going through all this at lunch and catching up on various Upper School pranks, we were commenting that we'd never seen anything like this before, or at least not in a while. One of the faculty members observed, "I think it's the sign of a healthy community." Certainly, you can never underestimate the importance of fun in building relationships.
Or, as a student stuck at home due to the April Fools storm emailed me, "Beep!"
- Bill Ivey, Stoneleigh-Burnham Middle School Dean
P.S. It is somehow fitting that I wrote this blog while chaperoning a trip to the Salisbury Carnival. With Cee-Lo Green, Lady Gaga, et al pumping up the volume and kids running around to different rides and food stands, it would be hard to write anything too serious. ;-)
Written by Bill Ivey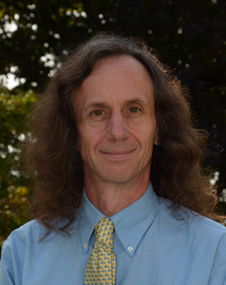 A dedicated member of the faculty, Bill Ivey is the Middle School Dean at Stoneleigh-Burnham School. He teaches Humanities 7 and the Middle and Upper School Rock Bands. Bill is the advisor for MOCA, the middle school student government, and he coordinates and participates in the middle school service program. Among his many hats, Bill also coordinates social media for Stoneleigh-Burnham School.