Last weekend we ended an intense week of Admissions Open House, Board of Trustees meetings and Family Weekend. It was all wonderful, but the pace of the week was fast and furious. I went to sleep very early on Saturday night when the campus fell quiet again! That said, I do have some impressions of the week that are probably worth sharing:
Open House is always fun. I get to talk about who we are and where we're going; girls and their parents get to try out this environment to see if it feels right. I love to see the reactions of parents as they try to imagine their daughters in our school, and of the girls interacting with our students. Any prospective student is lucky to have parents who are seeking the right match for the right reasons. We get to do it again on November 11th.
Going through Family Weekend in Year Two is so much more gratifying this second time around! Finally, I know most, if not all, of the parents and can interact comfortably them. I love talking to them about their children's growth and development, and now that I've been here for awhile I have witnessed that growth first hand and can speak about it specifically. I remember going to a soccer game last fall, chatting up what I thought was an SBS father on the sidelines -- only to discover in short order that his daughter was on the opposing team! A real first year foible. By contrast, this year I have only had to work at getting to know the families of our new students. A nice change.
I have to comment on our performing arts presentation that happens perennially on Family Weekends. This fall the performances were particularly impressive, given our scant 5 weeks of practice before the performances. Kudos to the arts department for inspiring our students to such heights in so short a period of time. I'm still singing Fly Me to the Moon in my head and remembering Quincy's strong voice belting it out. We all imagined we were in a smoky cabaret at midnight -- and it was only 1pm in the afternoon!
Our Board of Trustees is terrific, and the school is fortunate to have so many people who care so deeply for it. They worked hard through their two days of meetings, and in between sessions emerged to interact with the school community. Formal dinner on Thursday night was a lot of fun with the students, and coffee and Richardsons' chocolates were served after dinner in the Blue Room for trustees and faculty/staff. Delish. Since my arrival last year we've brought on four new trustees in all, two last year and two at this most recent meeting. All told, they bring expertise in finance, investment and development, key areas of our work these days. I am grateful for the support and guidance this board has given the school.
I headed off for Boston the Monday after Family Weekend in order to attend the Heads' Summit sponsored by the National Coalition of Girls' Schools. It was a day at the Simmons College School of Management with other girls' school heads, focusing on strategic thinking and goal setting related to finance. While these sessions, led by two Simmons professors, were interesting and timely, it was just as edifying to share experiences with our fellow heads of school. Many of them I already knew, but there were several others there who were new acquaintances.
I went back in to school on Tuesday, and Kate - a new ninth grader and alumna daughter - made my day. She sauntered into my office and presented me with this, her own rendition of our school logo: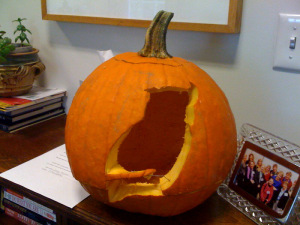 I'm still not sure how she did it with such precision, but it now adorns my front stoop and is lit up each evening for all to see. These are the little moments that make a day fun. They are the things that define a place and are so hard to quantify when families come to find out what we're about. Kate went home to Vermont after her parents came for Family Weekend, but she still was thinking about Stoneleigh-Burnham while away. That's when she carved her pumpkin. I love that.
Written by Sally Mixsell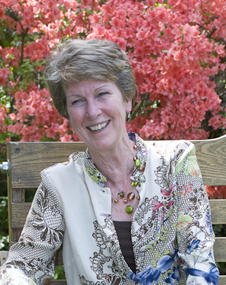 As an alumna (Class of 1969), Sally brings an intimate knowledge of the Stoneleigh-Burnham community to the position of Head of School. She is dedicated to the academic, social and physical growth of each girl, and believes that such development is accomplished by students' engagement in a close community where meaningful participation is key. Sally's contributions to this blog allow parents, fellow alumnae, prospective families, and friends a close view into the life of the school from her perspective.