The following was written by Bryna Cofrin-Shaw a senior at the Stoneleigh-Burnham School. Bryna will be heading to Lithuania this spring as a member of the American Team which will be competing in the World Championship. For more specifics check out the article on our website here.
On October 1st, Sophie Dorsch, Kat Bordewieck and I, along with our coaches Paul Bassett and Cyndee Meese, shuffled into a Deerfield Academy auditorium. The room came as close to the floor of the U.S. Senate as any place I've been, and from the circular rows of seats, we had a view of all 165 of our competitors and their coaches. After attendance was taken and logistics taken care of, Deerfield's debate coach, sent us on our way. "To quote Lorne Michaels, creator of Saturday Night Live", he said, before letting us go, "We don't go on because we're ready; we go on because it's 11:30. Well, you're not here because you're ready; you're here because it's October 1st, 2009." It was comforting to know that maybe I wasn't the only one whose persuasive speech wasn't memorized or Radio Newscast persona created, but as I looked around the room, that comfort dissipated quickly. Here was a room full of teenagers from all over the world, all clad in powersuits and uniforms, ties and high-heels, holding stacks of folders and looking around coolly. I was, by all definitions of the word, intimidated.
What proceeded was three days of constant event rounds, lots of fun (and often slightly awkward) social gatherings,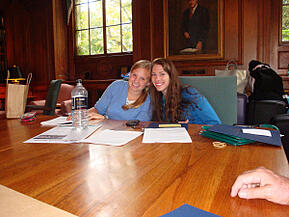 and many meals spent in the DA dining hall, trading war stories with my coaches and teammates. For those who don't know anything about debate, or at least this debate, here's how it worked: each team brings three (or six if you're international) competitors and each competes in three out of the eight events, some of which are debate (such as Kat's Parliamentary debate) and some are public speaking (such as Sophie's Interpretive Reading of Winnie The Pooh). By the end of the weekend, everyone has competed in six rounds, doing each of their categories in front of two separate audiences and judges. It was a long weekend.
Each day brought new combinations of events, new judges, a new chance to compete. Sometimes things went smoothly, other times I forgot lines, ran out of time, tripped over myself. One thing I learned is that when doing Dramatic Interpretation, an event I competed in that is essentially an acted monologue, pretending to be a crazy person is a good way to go. I performed a scene from The Search for Signs of Intelligent Life in The Universe as a homeless bag lady who talks to aliens, and when I performed my entire piece in the wrong order the first night, everyone thought the incoherence was deliberate! One unfortunate thing about the weekend was that I never got to see Sophie or Kat perform. Sophie wrote a hilarious After-Dinner speech about a new version of Cash for Clunkers that accepts husbands instead of cars, and I heard that the whole room was laughing, even the judges (who are specifically told not to display emotion). Kat performed an After-Dinner about the famous Darwin Awards, and a Dramatic Interpretation about an abused girl who finds comfort in science. PB described it as "amazing", and since Kat came in 22nd, the judges must have been impressed as well.
The International Independent Schools' Public Speaking Competition wasn't like other debates, though. Unlike most, where you arrive at a school dressed and ready, then debate or speak, hear the results and go home, the IISPSC lasted four days. Every time we competed we just had to put it behind us and look toward the next event, knowing that we would have no idea how we did until Sunday's final rounds and the Awards Banquet. Unlike other debates, the IISPSC actually gave us a chance to get to know all of the kids we were competing against. The intimidation I felt the first day went away quickly as I began to actually meet my competitors. Just like me, they were practicing their persuasive speeches over and over in their heads and wearing ridiculous costumes for their Dramatic Interpretations. After each day's competitions, there was also time for things like Contra Dancing and roasting marshmallows. One of the best parts of the whole tournament was meeting the students who had traveled all the way from countries like Peru and the UK just to be here.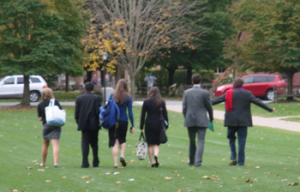 In the end, Stoneleigh Burnham finished strong. Kat came in 22nd in her Dramatic Interpretation, Sophie came in 46th in Interpretive Reading, and I made it to the final rounds for Radio Newscast and Dramatic Interpretation. I ended up 17th out of 168, and will join eleven other Americans in Lithuania for the World tournament in April. Even though PB, Cyndee, Kat and Sophie won't be boarding the plane come spring, it's our whole team that's going. It was more than a team effort, it was a team win. Each of us brought something to the competition; Sophie's cheerful outlook and ability to keep everything in perspective, Kat's debate experience and confidence, and PB's devotion to the team and his always-wise advice. What I remember most, though, was something that Cyndee said to me: "It's not about you, it's about the piece." As soon as she said that, everything fell into place. It didn't matter if I felt like a disheveled, nervous wreck sometimes. My mission was to convince judges that sex-reassignment surgeries should be covered by health insurance, my mission was to give a top of the hour newscast, and to convince an audience that I was a homeless woman speaking to aliens. If I learned anything from this weekend it's that the confidence Stoneleigh-Burnham instills in us doesn't mean that we have to be self-assured and perfectly composed all the time. What it means is that even if we're nervous and on the brink of forgetting all we've memorized, what matters more is what we say. Kat, Sophie and I all said what we needed to say; we did our speeches, debates, and monologues justice, and can walk away proud.
Written by SBS Admissions

Our Admissions team is always on the lookout for our next "Stoneleigh-Burnham girl." They contribute to the blog on independent school admissions processes, tips for finding the right fit in an independent school, financial aid, and more.