The following post was written by Kat Bordewieck, a senior and President of our Debate and Public Speaking Team. Kat will be competing in the International Debate Competition at Deerfield Academy on October 2, 2009 along with two other Stoneleigh-Burnham students. Below are her reflections on the first debate and public speaking tournament of the 2009-2010 school year held at Stoneleigh-Burnham School on September 26, 2009.
Walking out of the drizzle and into reception in my heels and blazer, I wasn't confident or worried but filled with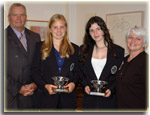 trust. Trust that I would compete well, that the day would go smoothly, that our coach Dr. Paul Bassett (aka PB) would finally remember the receipts, and that the Stoneleigh- Burnham Debate and Public Speaking Team would be what I think it is, a force to be reckoned with. This fall Stoneleigh-Burnham School had the honor of hosting the first event in the 2009 DANEIS public speaking season. On that rainy Sunday morning I checked in all twelve schools including Roxbury Latin, St. Paul's, St. Sebastian's, Exeter, and Kingswood-Oxford to name a few. As I checked each school in I had the opportunity to meet each one of my competitors as well as reconnect with old friends.
The first round was Interpretive Reading. Our order was alphabetical by last name. I have never resented my last name more. I had to go first, in the first round, at the first debate. Nevertheless, my time practicing with Cyndee Meese, our acting coach, served me well as my accents of Bathsheba and Liddy from Thomas Hardy's Far from the Madding Crowd filled the room. I later found out that my teammate Bryna also excelled, winning a trophy and a third place prize for her interpretation of Jane Austen's Pride and Prejudice which we had helped her pick the week before.
Round two centered on two opposite styles: After Dinner speeches and Persuasive arguments. Sitting in the Biology lab we all laughed at Sarah Palin impersonations, the "real meaning" of the Star Spangled Banner as told by a drunk Englishmen, and my rendition of the Darwin Awards which won me a sixth place out of 23 speakers. Bryna had another great round and finished first out of 17 for her persuasive speech about changing insurance policies to include sexual reassignment surgeries.
The final round is considered the dark horse of debate. In this round, each student is given less than two minutes to prepare. Competitor after competitor delivered their speech while the judges sat unresponsive--not a cracked smile or encouraging nod among them. My envelope included the prompts: Fenway Faithful, The Faint Hearted never won the Fair lady, and Chip N' Dale. Choosing to proceed without a pen and paper, I outlined my thoughts in my head including pop culture, the Salem witch trials, and Renaissance art history in my preparation. Ending each of my rounds with s
atisfaction and confidence, I finally made my judge laugh out loud.
The awards were given around 5 pm. PB called us "rock stars." I felt I could finally take a deep breath and relax.
This feeling didn't last long though as PB went on to remind Bryna, Sophie and me that we are entered in the four day International Tournament at Deerfield Academy next weekend with the world's best speakers.
The SBS Debate and Public Speaking Team is off to a great start this year. Our advanced team is confident and our novice team has good leaders for help.
Written by SBS Admissions

Our Admissions team is always on the lookout for our next "Stoneleigh-Burnham girl." They contribute to the blog on independent school admissions processes, tips for finding the right fit in an independent school, financial aid, and more.