We're at the end of our third full week of classes, and it feels - in good ways - as if we've been here for months. I thought I'd fill this entry with quick snapshots of some the moments we've experienced.
We had an alum speaker at one of the first Housemeetings. She had just returned from a two-year Peace Corps stint in a Senegalese village and shared photos and insights with us.
Natalie (academic dean) had her baby! Jack Hudson Demers was born on September 21st and is now home learning how to live with two huge dogs...
A rousing 64 students and faculty have volunteered to walk for cancer research. We're divided into teams and will be doing some fundraisers in order to have the money needed to participate. I feel very proud of the number of our students who've come forward to help, and I have to say that my team is the best! No favoritism, of course...but we have already made jewelry and cookies to sell.
In the middle of week 2, Mina Cooper, director of riding, Regina Mooney, director of development, and I traveled to Charlottesville, VA for an alumnae event at Hyperion Farm, owned and operated by alumna Vicky Castegren. It was an incredible event on an incredibly beautiful piece of property with incredibly gorgeous horses. Vicky showed us some of the babies born on the property and demonstrated what she looks for in a good horse. We are thrilled that Vicky has agreed to run a clinic at SBS on February 20th! Among a few others we met while there was my classmate Karen van Lengen who has been dean of the school of architecture at UVA for the past 10 years. It was wonderful catching up and catching her up; Karen has agreed to come speak to our students sometime soon as she is currently on sabbatical.
At the Fall Horse Trials, our seventh grader Franny was remarkable getting people to buy SBS items. She even approached one guy to suggest that our water bottle would match his car well!
Two of my advisees wanted chocolate chip cookies for our advisory period snack this week; one wants potato salad! I accommodated both requests...
I heard great feedback about one of our new teachers. The girls love her class and think she's a great teacher. (I passed along the kudos.)
While we go through our daily routines, some of us are behind the scenes working on finalizing budgets and planning for next year's dates.
We are also planning for the upcoming Board meeting and have just added two new members and two new trustees emeriti. Great additions!
We'll be "testing" a new format for our Family Weekend this fall -- putting the arts performance on Friday afternoon so parents may take their daughters out for dinner and/or overnight.
Past parents Vicki and Jeff Palmer hosted a wonderful cocktail party at their home in Greenfield to which all current and past parents in Greenfield and neighboring towns were invited. It was wonderful to meet so many enthusiastic people and to have the opportunity to tell them what we've been up to at SBS.
I was just AOD this past weekend and witnessed Friday night Laser Tag on the first floor and video games in the Red Room on Saturday night. Lots of crazy fun...but lots of girls in the library working as well. Sunday was a quiet day filled with room clean-up and study time, though there was a college fair some of the girls attended.
Our Chinese teacher has finally arrived! After more than a month of going back and forth with the Department of Homeland Security, we secured the permission for Chia-Jung (Sara) Tsou to get her visa. Sara just finished her master's degree at the University of Pittsburgh, but she is from Taiwan and had to go back in order to do this paperwork. Her students are ecstatic and we are all SOOO happy she's here! She made a big hit last Thursday when she offered us Moon Cakes during our weekly faculty meeting; it is time for the Moon Festival in Taiwan and China so she brought these goodies to share with all of us. She's a smart woman!
Next thing you know, it will be time for Mountain Day so stay tuned!
Written by Sally Mixsell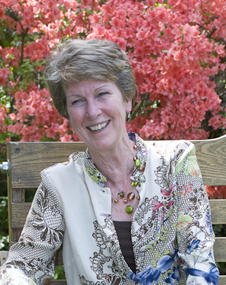 As an alumna (Class of 1969), Sally brings an intimate knowledge of the Stoneleigh-Burnham community to the position of Head of School. She is dedicated to the academic, social and physical growth of each girl, and believes that such development is accomplished by students' engagement in a close community where meaningful participation is key. Sally's contributions to this blog allow parents, fellow alumnae, prospective families, and friends a close view into the life of the school from her perspective.