I look around and notice more and more conferences paying more and more attention to race, class, and multicultural competence. Last year's Teaching and Learning Conference was a great example of a huge step forward, and this year, they consolidated that step forward with a good number of awesome and thought-provoking keynotes, panels, and sessions with noted educators of colour such as Renée Moore, Pedro Noguera, and José Vilson, and perhaps most significantly, 11-year-old Marley Dias. Ms. Dias found herself frustrated by the dearth of books featuring Black girls in her school; when her mother asked her what she intended to do about it, she didn't hesitate for a second. In November of 2016, she launched the wildly successful #1000BlackGirlBooks drive, more than quadrupling her initial goal. (Teaching and Learning 2016) You can find her website here.
Yet, I remember too that last year's Teaching and Learning conference had a major gap - only one session on the needs of LGBTQ+ kids, and that only pertinent to members of the National Educational Association. And this year's conference? I checked with a friend who was there, and she confirmed what I thought… nothing. Not so much as a mention. The conference was justifiably proud of bringing its intersectional thinking up to the next level, and I hope and expect they will maintain their momentum as regards conversations on race and class. But I would also like to see them expand their intersectionality to include the full diversity of gender and sexuality as well. Certainly the National Coalition of Girls Schools has shown it can be done, and done well.
That's one of the reasons why I decided to attend the Spring GLSEN Massachusetts conference at Wheelock College even though I had just spent two and half wonderful days with the New England League of Middle Schools. I needed to spend a day thinking about being LGBTQ+, and about the various intersections of identity (including race and class as well as age, abledness, and more) that affect all of our lives, in an open and accepting atmosphere. Indeed, the conference program states that "GLSEN Massachusetts intentionally centers our efforts around identities that are often marginalized within many 'mainstream' LGBTQ communities. Issues related to supporting LGBTQ students of Color, Transgender Gender Non-Conforming students, and LGBTQ students of varying (Dis)Abilities, are at the forefront of our work."
We began with a keynote given by Cameron Hardie, described as "a non-binary queer senior at Boston Latin Academy who has been involved in their school's Rainbow Alliance and social justice work for the past four years." Cameron, echoing a theme I've heard from other students, talked about having to learn on their own, at the age of 14, how to figure out gender for themselves because it wasn't mentioned anywhere in the curriculum, or really mentioned at all. As they learned and came to power, there was not always support from other students or administrators - which made the work of the Rainbow Alliance even more important and meaningful.
My first session was entitled "Being an Ally is Complicated." Facilitated by people from the Greater Boston PFLAG organization, we explored what it means to have privilege in some areas of your life even if you don't in others, how you can best help friends and family members who have come out to you, and how you can best help advocate for LGBTQ+ people. In general, one of the main pieces of advice seemed to be don't make judgments, don't make assumptions, just talk openly and honestly with the person you want to support and ask what they need, keeping in mind they may not know straight away and their needs may shift over time. Part of that process is learning about and acknowledging any privilege one may have, and part of it is also realizing when you've messed up, apologizing, and learning how to do better.

My second session was entitled "LGBTQ+ Allyship and Advocacy for Middle School Educators" and was facilitated by two students from Boston University, Becca Reynolds and Aaryn Clerk. I found myself doing my small group work with a middle school guidance counselor and a high school Senior from another girls school, and we had some great discussions. All of us there were, by definition, sold on the idea that middle school students are thinking about gender and sexuality and need safe spaces both to learn about the diversity of gender and sexual and romantic orientations, and to explore their own identities. We explored different possible situations as as means of talking through ways for adults to intervene when necessary and help create a climate of safety, and ways for kids to seek and find support.
Being both shy and an introvert, I tend to go off by myself for lunch at conferences, but in this case found myself invited to sit down with a person from the Rhode Island School of Design. We had a great conversation, mostly learning about each other's lives, work, and schools. And after saying good-bye and glad to know you... we found ourselves sitting together about ten minutes later waiting for a session on "Race, Gender & Sexual Orientation: Moving Beyond Identity Singularity." The question, "Can we move beyond binaries, boxes, and even intersections and spectrums?" was compelling, and the room filled up fast.
The room emptied nearly as quickly when someone ran in to tell us the facilitator had just cancelled, and we moved as quickly as we could to our new rooms, knowing sessions were probably already beginning. I went running into a session on "Strengthening Youth/Adult Collaboration," facilitated by members of BAGLY, only to find shortly after taking my place that it was a similar session to one I had actually attended in a previous year - a good one, fortunately, as I didn't dare walk out and find yet another session (especially since only six people were in attendance). Also, it turns out that with smaller numbers, we could go much deeper on questions of where youth can take over leadership entirely, where they need adult support, where adults should do more of the leading with youth input, and where adults should do it on their own. In our group, there was a strong willingness to trust students as experts in their own lives and people perfectly able to run things largely on their own; even when divided between "Youth can do it alone" and "Youth can do it with adult support," the only real difference of opinion was whether kids should have support provided to them for when they needed it or kids should seek out adult support when they decided they needed it. The one time we moved to "Adults should do it with youth input" when when it came to actually enforcing school policies, and even there, we all agreed that youth-created policies would be easier for adults to enforce that policies handed down from adults to kids.
As I walked to my car, I felt warmer than I normally would have given the misty rain falling in the early spring about to become a late winter. Social Justice and intersectional thinking are at the core of my life, and I had spent a day among my people. I can't wait for the next conference next fall.
Written by Bill Ivey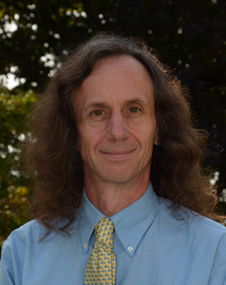 A dedicated member of the faculty, Bill Ivey is the Middle School Dean at Stoneleigh-Burnham School. He teaches Humanities 7 and the Middle and Upper School Rock Bands. Bill is the advisor for MOCA, the middle school student government, and he coordinates and participates in the middle school service program. Among his many hats, Bill also coordinates social media for Stoneleigh-Burnham School.